The Royal Rebel: The Life of Suffragette Princess Sophia Duleep Singh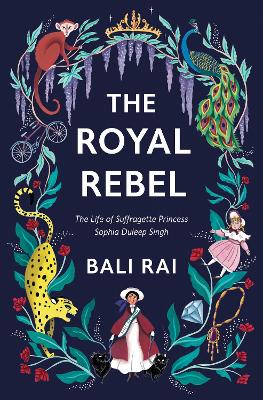 By Author / Illustrator
Bali Rai, Rachael Dean
Genre
Biographies & Autobiographies
Age range(s)
9+
Publisher
Barrington Stoke Ltd
ISBN
9781781129425
Format
Paperback / softback
Published
15-07-2021
Synopsis
Rebel, Princess, Suffragette: this is the incredible true story of the life of Princess Sophia Duleep Singh, a forgotten heroine of the early twentieth century.  Born in 1876, Princess Sophia Duleep Singh was the daughter of the last Sikh ruler of the Punjab, and goddaughter of Queen Victoria. After her father lost control of his empire and was exiled to England, Sophia had a privileged but troubled upbringing that left her unsure about where she belonged - in India or England. Sensitive to injustice, she became an suffragette and fought hard to win the vote for women. This is the extraordinary story of her life.
Reviews
Jennifer
The Royal Rebel is the amazing, intriguing and true history of Princess Sophia Duleep Singh - a daughter of the last Sikh ruler of Punjab and also a god daughter of Queen Victoria - and the her story that led her to becoming part of the suffragette movement in England in the early 1900s. I had never heard of this historical figure and knew very little about this period of time in Indian-English relations and I found this story absolutely fascinating.
Sophia was raised in luxury on an English country estate, after her father lost control of his Empire in India and was exiled to England, but the increasing financial difficulties of her father caused a huge change in circumstances for the family. Princess Sophia struggled immensely with her sense of identity throughout her life - finding no place to really call home, either in England or on her return to India. The narrative is told through Sophia's eyes and this makes the story engaging and full of personal thought and feelings, rather than a simple factual account of events in the life of the Princess.
The book has the style and thrill of a captivating adventure story from the very start where we encounter Sophie living in Elveden Hall, Suffolk but with grounds full of monkeys, ostriches and eagles. The juxtaposition between the styles and social backgrounds Sophie experiences are a key theme to the story. There are beautifully drawn out scenes, by Rachael Dean, of the varied landscapes of Sophia's life across the bottom of every page. Sophie appears to be a brave, bold female who, as she puts together the details of her family history, grows in anger and frustration at injustices she sees in how the British government was treating many Indians at this time. Sophia uses her position amongst the wealthy upper classes to support Indian sailors and eventually moves into circles where she becomes a member of the Women's Social and Political Union alongside Emmeline Pankhurst.
Sophia is determined to challenge the British Government on its multitude of intolerances and discriminations against others. The fictional story of the true facts of Sophia's life are absorbing and fully fleshed out and made real. The Royal Rebel is fast paced and delightfully vivid. It is the almost fairy tale-like story of a princess, growing up in luxury and then having to find her own path and strength against adverse conditions. It is, however, all the more powerful and extraordinary because it is true.
96 pages / Ages 8+ / Reviewed by Jennifer Caddick, teacher
Suggested Reading Age 9+
Other titles