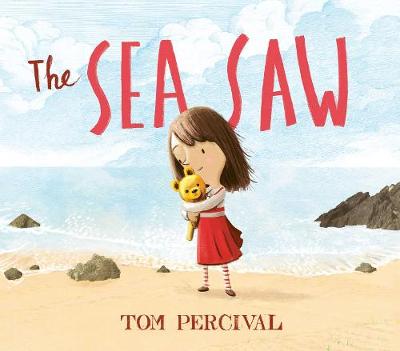 By Author / Illustrator
Tom Percival
Genre
Adventure
Age range(s)
5+
Publisher
Simon & Schuster Ltd
ISBN
9781471172434
Format
Paperback / softback
Published
10-01-2019
Synopsis
A beautiful, emotionally satisfying look at how nothing is ever truly lost if you keep it in your heart...

When Sofia loses her beloved teddy after a day at the beach, she is heartbroken. But the sea saw it all, and maybe, just maybe, it can bring Sofia and her teddy back together. However long it may take...

Exquisite collage artwork is paired with an assured, moving text in this very special picture book.
Reviews
Kyle
The Sea Saw is a beautiful tale of never giving up hope on something you have lost. Tom Percival has created a story that will certainly withstand the test of time and that I believe should become a firm favourite across all classrooms. The story begins with the introduction of Sofia and her old, tatty and very well loved teddy bear. From the illustrations, it is clear to see that this text is not set in the modern era. This could be explored further with older primary school children as they use the pictures to investigate what time period the story is set and investigate the main similarities and differences with the world they have grown up in. The story then takes us on a journey of Sofia's amazing day out with her father....a day at the seaside. This element was great to share with my class as they were able to share their own experiences of their days out at the beach. It also would make a great link with some of the history topics in KS1 - particularly The Victorian Seaside. The words Tom Percival uses throughout are beautifully written and allow for some wonderful discussions, especially during guided reading sessions. The story flows wonderfully and I felt myself completely immersed in what I was reading - sharing every emotion with Sofia. The way the sea is also personified adds an extra dimension to this story and you generally believe that the sea is a real person, almost a guardian angel to Sofia. I was so engrossed in the story that I did not foresee the ending, it was a pleasant surprise that make me sigh with relief out loud. I very much enjoyed this book and it has certainly been one of the best I have read recently. I have recommended it to many fellow teachers and librarians. Picture book / Ages 5+ / Reviewed by Kyle Matravers
Suggested Reading Age 5+
Nikki
After a glorious day at the beach with dad and her perfect friend 'bear', Sophia was left gutted as the 'storm clouds rushed in, thunder clapped and lightening flashed'. Her day was ruined! Dad and young Sophia had to rush off quickly to avoid the rain and catch the last bus home. The pair were in such a hurry that Sophia left poor bear behind. Bear was tatty and very well loved but meant the world to Sophia and she was devasted that she had lost something she loved so dearly. This story is heart-warming and will resonate with anyone who has felt that heart-wrenching despair at loosing something irreplaceable. Luckily for Sophia the sea sees this and decides to help in a hope that maybe, just maybe, Sophia might be reunited with her beloved bear again. The sea finds a way to guide the bear through water and keep bear safe along its journey. This is an emotional look at how 'nothing is ever truly lost if you keep it in your heart'. This book is abundant with cross curricular learning links in both KS1 and 2. This story could be used as a great stimulus into History objectives. Children could look at the passing of time and changes within living memory, history of toys, family timeline etc. There are also great links to be made with Geography NC objectives looking at how we travel from one place to the next as the story talks about the journey Sophia and Dad take to get to the seaside on trains and boats etc. as well as looking at various landscapes comparing the seaside to urban settings. This is a great text for those teachers who teach literacy creatively and effectively, using high quality childrens literature at the heart of all learning. Picture book / Ages 4+ / Reviewed by Nikki Stiles, teacher.
Suggested Reading Age 5+
June
Sofia has a favourite teddy bear that once belonged to her mother and her grandfather before that. The bear goes everywhere with Sofia and her father and seems to be the one thing that ties Sofia to the memory of her absent mother. On a trip to the seaside, calamity strikes and Sofia and her father return home unknowingly without the bear. The Sea, imagined here as a force of nature with thoughts and feelings, sets out to reunite the bear and its owner and finally, after many, many years, the bear is plucked out of a river by a young girl who excitedly shows her find to her grandmother, none other than the now grown old Sofia. This beautifully illustrated book is just perfect to share with a young child. The text makes clear Sofia's attachment to this particular bear and we follow the bear's arduous journey through many storms, dangers and years until it is finally found by Sofia's granddaughter. The message, that memories are important and can never be lost if you hold them in your heart, is probably a little complicated for a young child to fully grasp, possibly also the idea that so many years have passed that the girl in the final pages is not Sofia but Sofia's granddaughter. This will not matter, however, as, in the tradition of the best picture books, the adult reading the picture book will get as much out of it as the child they're reading it with. Picture book / Ages 4+ / Reviewed by June Hughes, school librarian.
Suggested Reading Age 5+
Other titles