The Thames and Tide Club: The Secret City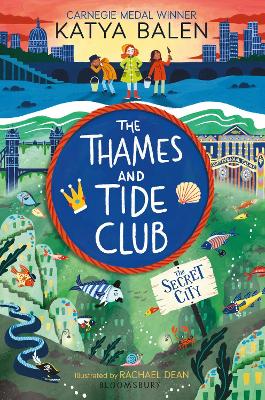 By Author / Illustrator
Katya Balen, Rachael Dean
Genre
Adventure
Age range(s)
7+
Publisher
Bloomsbury Publishing PLC
ISBN
9781526640482
Format
Paperback / softback
Published
11-05-2023
Synopsis
An exciting new adventure series for young readers from Carnegie Medal winner Katya Balen, author of October, October and The Light in Everything.
Clem and her friends Ash and Zara are members of the Thames and Tide Club! Every weekend they go mudlarking by the river, searching for treasures that have washed up on the shore. Clem has found old things, new things and a whole heap of rubbish. But one day, she finds something really special. Something magical that belongs in the river and must be returned to its rightful owner ... or else. 
Before they know it, the Thames and Tide Club are on the weirdest, wildest, underwater-iest adventure they could possibly have imagined on a mission to save Underwater London!
Find out more from author Katya Balen
Reviews
Beverley
Clem and her best friends Ash and Zara are mudlarkers. Along with the other members of the Thames and Tide Club, they spend their weekends searching the river banks for lost objects that have been washed ashore. They meet at the mudlarking museum, run by Oswald, where many of the unusual things that have been found are on display.
One Saturday, Clem finds a strange, tangly loop of metal. It looks like nothing at all, but it seems to dislike being touched. Very odd things begin to happen; there are freak weather conditions, bridges are swaying, and fountains spray wildly. Even worse, the tower blocks of Elm Estate, where Clem and her friends live, develop huge cracks and everyone is forced to evacuate their homes. Clem realises the loop of metal she has found may have something to do with all of these odd events, and, with the help of Oswald, she, Ash and Zara embark on an amazing underwater adventure as they try to return the loop to its rightful owner.
The Thames and Tide Club: The Secret City is a delightful, whimsical book. With its short chapters and engaging cast of characters, it is perfect for readers who are gaining in confidence. There is a strong sense of friendship and community running through the novel; Clem and her friends are brave and resourceful, and are determined to save their homes from the anger of the river.
The friends plunge beneath the waters of the Thames, where they find themselves in an alternative London inhabited by seahorses being ridden by jellyfish and fish with moustaches and briefcases. They are given a map of the Undercity of London to help them on their quest, and this is brilliantly illustrated within the book, showing the reader the locations of such places as Codvent Garden and Pikeadilly Circus. The intrepid trio of friends eventually end up at Guppingham Palace, where they encounter the Queen of the Undercity, Barbara - a porpoise in a pink ballgown!
There is plenty of humour within the story, it moves along at a lively pace, and comes to a very satisfying conclusion. Sometimes the river gives up things that need to be hidden and protected, and also things that must be returned. Clem, Ash and Zara are made Guardians of the Museum, and their destiny is to carry out these tasks. So, we are left in no doubt that there are more adventures in store for the Thames and Tide Club, and I cannot wait to see where they will venture next.
Katya Balen has written an exciting, funny and engaging book, which has been beautifully illustrated by Rachel Dean. Highly recommended for readers aged 7 and up.
160 pages / Reviewed by Beverley Somerset, school librarian
Suggested Reading Age 7+
Jacqueline
Clem is part of a mudlarking club along with her friends Ash and Zara, looking for treasure on the banks of the Thames. Everything the club finds gets taken to the museum, where the slightly mysterious Oswald keeps a museum of finds. One day, the Thames starts behaving oddly and the water begins to rise. The locality is in danger and buildings have to be evacuated. Could it be something to do with a find Clem made in the mud?
The Thames and Tide Club: The Secret City is a very sweet and engaging story designed for younger readers. The very short chapters and pacy plot really lends itself to younger and less experienced readers who want a proper story but have not yet developed reading stamina. Whilst there is an element of suspense and tension, it never gets too dark or gloomy and is perfectly pitched to captivate emergent readers.
There is also a great sense of fun and humour running throughout. The alternative place names (along with a map!!!) made me laugh and I will never be able to look at 'Codvent Garden' in the same light again. Delightfully illustrated throughout by Rachael Dean, the illustrations bring the characters and the story to life and obviously for me, the map is a real highlight!
The first in what promises to be a popular series, even though this is a fantasy, it will undoubtedly popularise mudlarking - it has certainly made me want to try it. Who knows what treasures I might find or where they might lead me?
160 pages / Reviewed by Jacqueline Harris, teacher
Suggested Reading Age 7+
Elen
As a fan of Katya Balen's writing, I was keen to see what she can do for younger readers and The Thames and Tide Club: The Secret City is an appealing, fun adventure - with just the right amount of peril - for readers aged seven years plus.  It also introduces the idea of 'mudlarking' and how close the city's history is to us; we can discover it by digging in the river's mud.
In The Secret City, the first Thames and Tide Club adventure, we meet the characters who are going to take us on this adventure - Clem and her friends, Ash and Zara. The small group of children is guided by the enigmatic museum owner, Oswald, who it turns out knows a great deal more about the river and its secrets than he's letting on.... When the river is disturbed and threatens to flood their neighbourhood, Mr Oswald sends the children on a surprising mission to save the day.
The relationship between the friends drives the story with each of the children contributing fully to the adventures. Although the story begins with a very realistic setting in a neighbourhood near the river Thames, the children's underwater adventures take a surprising twist into a fantasy world filled with incredible characters, and some jeopardy for the children.
The Secret City is a fun read which would also work as a great read-aloud for a class, and I look forward to seeing where Katya Balen takes the Thames and Tide Club next!
160 pages / Reviewed by Elen Green
Suggested Reading Age 7+
Other titles