Tractor Tractor: A lift-the-flap opposites book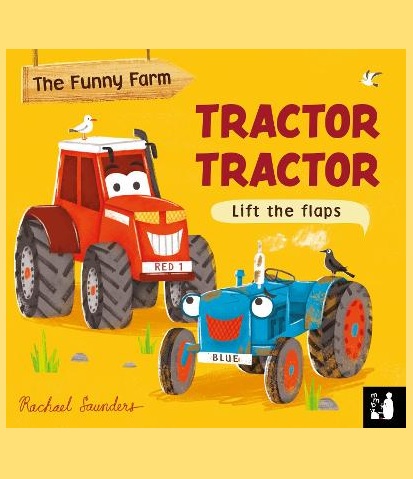 By Author / Illustrator
Mama Makes Books, Rachael Saunders
Genre
Early Skills
Publisher
Mama Makes Books
ISBN
9781838138172
Format
Board book
Published
01-03-2022
Synopsis
One big tractor, shiny and new. One small tractor, rusty and blue...TRACTOR TRACTOR is the second book in a series of lift-the-flap books about the humorous goings-on at Funny Farm. Each book has an early-learning aspect and TRACTOR TRACTOR is all about opposites. It has sliders too, so children can make the tractors move forward and back, fast and slow.
It's harvest time and Red arrives shiny, fast and strong. Blue is an old faithful - small and rusty but wise and calm. So when Red decides to race home after a hard day's harvesting, Blue lets him go, only to find Red in a ditch, no longer shiny and clean but the dirtiest - and smelliest! - tractor he's ever seen.
A warm-hearted story that shows, despite being opposites, young and old can make a great team, and the very best of friends.  
Reviews
Elen
The Funny Farm books by Mama Makes Books is a gorgeous series for helping little ones develop early skills - in this book, Tractor Tractor, the focus is on opposites as two tractors, one old, one new, get to know each other and to help out when things go wrong.
As well as the joy of shiny tractors!, the story includes opportunities to open flaps and move sliders as the tractors harvest and bale hay, or help pull a stuck tractor out of the mud, which will help keep young children engaged as they learn about opposites.
These little books are sturdy and we've tried it out with a two year old who loved Tractor Tractor. See also Cluck Cluck Duck from the 'Funny Farm' series.
Board book / Reviewed by Elen Green 
Suggested Reading Age 0+
Other titles