We Are All Astronauts: Discover what it takes to be a space explorer!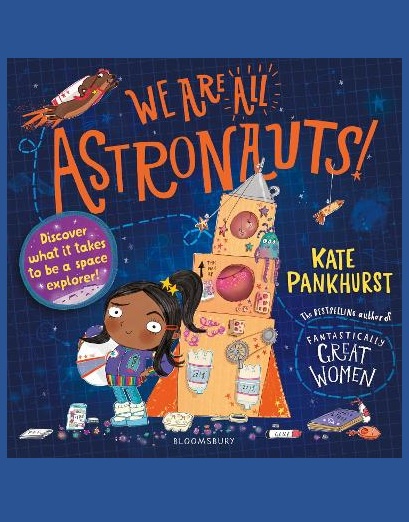 By Author / Illustrator
Kate Pankhurst
Genre
Non Fiction
Age range(s)
7+
Publisher
Bloomsbury Publishing PLC
ISBN
9781526615435
Format
Paperback / softback
Published
31-08-2023
Synopsis
Reach for the stars and learn all about space in this fact-packed new book from the bestselling creator of the Fantastically Great Women series! Mixing STEM topics with a sweet story of figuring out your place in the world, this is the perfect introduction to space for the next generation of space travellers, whoever they may be.
Budding astronaut Luna Scope wants nothing more than to blast off into space and explore the cosmos, but how does she go from a cardboard rocket in her room to running experiments on the International Space Station? Enter Granny, who's about to teach Luna just how to make her dream a reality. From discovering what shooting stars are really made of and learning how to complete a spacewalk, to rocket building lessons by Mary Jackson and space shuttle trips with Mae Jamison,  Luna and her Granny take us on a crash course adventure into how to become a successful astronaut.
Meeting incredible female space pioneers along the way, Granny takes Luna on a fact-filled space adventure showing her that anyone can be an astronaut if they dream big enough. In fact, just by standing on planet Earth, you're already closer than you think...
From Kate Pankhurst, this is the first in a new series tackling popular non-fiction topics in fun new ways. Inspiring young readers to aim high, dream big and see that they too can reach for the stars!
Q&A with author and illustrator Kate Pankhurst
Reviews
Lucy
Another great book from Kate Pankhurst about women doing amazing things! We are all Astronauts! starts with a little girl called Luna who wants to be an astronaut. It's a great book that is packed with facts and information all about being an astronaut but presented as a story about Luna going to space.
The book includes lots of information, including facts all about astronaut's clothing, the skills they need to have, information about some of the most famous astronauts from history and facts all about space. There's a lovely note from the author at the back which explains how the idea for the book came from a real-life story of a group of female astronauts from the 1960s - a fantastic inspiration to young girls!
This would be a lovely book to have on any book shelf but it would be a particularly great aid for any classroom where children are learning about space. As a teacher, I can see how the jam-packed double pages could be used for children to pull facts from for so many learning opportunities!
Picture book / Reviewed by Lucy Hopkins, teacher
Suggested Reading Age 7+
Sue
Luna Scope, aged seven-and-a-bit Earth years, is determined to be an astronaut. Full of enthusiasm, she is about to launch herself into her ambition and, fortunately, her granny is on hand to guide her with some excellent advice. Luna learns about spacesuits and telescopes, stars and space rocks, gravity and gravity. Granny also introduces her to some space heroes and over-looked animal pioneers whose achievements paved the way for the humans who followed.
Written in the same fun-filled, highly illustrated style as the Fantastically Great Women's series which Kate Pankhurst is so well known for, We are All Astronauts is packed with information, sure to engage and fascinate. The author's note explains that her inspiration for writing the story came from the real-life story of the Mercury 13, a group of female trainee astronauts who never reached space because they were women.  The book is brimming with positivity and inspiration, shining a light on the contributions of women, and proudly shouting the message that anyone can be an astronaut - or anything else - if they reach for the stars!
The joy of this book is that it will appeal to children of different ages who will read it in different ways. There is much to explore in the illustrations, Granny and Luna's story, biographical information, labelled diagrams, fact boxes… it is possible to read it in small snippets or as a whole, thoroughly enjoying it however it is tackled. Asterisks are used to indicate definitions of some of the technical vocabulary used, clearly explaining words to support the reader's understanding without spoiling the flow of the text.
Perfect for using as a guided reading text, to support learning about space, as the basis for investigative play or as a basis for a book group session full of fun activities, We Are All Astronauts! makes an excellent addition to any bookshelf!
Picture book / Reviewed by Sue Wilsher, teacher
Suggested Reading Age 5+
Jane
I liked the idea of collecting all 13 astronaut badges in We are All Astronauts as the reader progresses through the book (a unique badge is assigned to each space mission); the message that space exploration, whether IN space or from Earth, is barred to no-one, least of all those overlooked in the past (ethnic minorities and people with disabilities); and the inclusion of some little known facts about, for example, NASA's Neutral Buoyancy Lab, Hayley Arceneaux and her prosthetic limb, the ability of tardigrades to survive space unaided, the barbecue smell found on spacesuits, turning wee into drinking water, and the role of responsible space exploration in living well on this planet.
Any quibbles I have are negligible: I find the fictional Venus 3 mission a little confusing, given that all other facts in the book are true. And might it have interested boys to have had the Author's Note as an Introduction, so they know why all the featured astronauts are female?
This book is a worthy addition to the primary school library and recommended both for private reading and curriculum work on, say, space, explorers, new technologies and environmental activism.
Picture book / Reviewed by Jane Rew, school librarian
Suggested Reading Age 7+
Other titles