Where Has All The Cake Gone?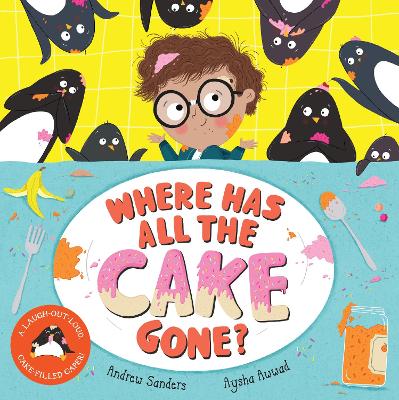 By Author / Illustrator
Andrew Sanders, Aysha Awwad
Genre
Funny Stories
Age range(s)
5+
Publisher
Pan Macmillan
ISBN
9781529037128
Format
Paperback / softback
Published
21-07-2022
Synopsis
An irresistible tall tale full of warmth, wit, cake and . . . penguins! Perfect for small children with big imaginations.

"I did not eat the cake".  A cake has gone missing from the kitchen and Dad wants to know where it has gone. But Albert says it wasn't him. Oh, no. It was eaten by some very naughty penguins who then kidnapped Albert and took him on a madcap adventure involving international travel in a giant jar of marmalade and a snowball fight with kangaroos. Albert's dad is not impressed. But Albert swears he's telling the truth. HE DID NOT EAT THE CAKE! Could his story really be true?
Reviews
Maria
Where Has All The Cake Gone? begins with a question from Dad to his son Albert. "Where has all the cake gone?" He presents an empty plate to his son with evidence of cake all over the kitchen. Then Albert begins to explain what happened to the cake, which is brilliantly illustrated in the pictures that add detail to Albert's imaginative explanations.
The text is based on the hilarious interaction between Dad and Albert as Dad investigates the disappearance of the amazing tiered cake. Albert's imagination takes us on a journey with some lively penguins to France, Egypt and even space as he explains to Dad that the penguins are to blame for the missing cake.
The children (ages 6+) thoroughly enjoyed this book and, as each new page explored another element of Albert's imagination, they were entertained and said "anything can happen in a story".  This book truly shows this. It is lovely to see Dad in the kitchen, baking and helping Albert, too. So next time you have a missing cake from your kitchen...beware of the penguins who just LOVE cake!
Picture book / Reviewed by Maria, teacher
Suggested Reading Age 5+
Other titles