Who Will You Meet on Dinosaur Street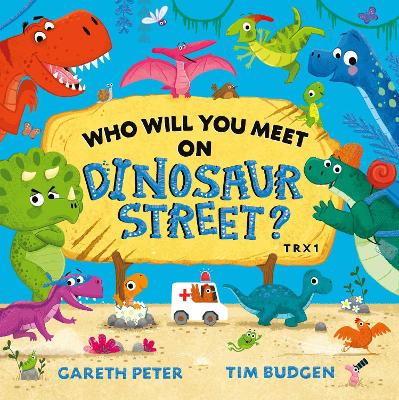 By Author / Illustrator
Gareth Peter, Tim Budgen
Genre
Funny Stories
Age range(s)
3+
Publisher
Simon & Schuster Ltd
ISBN
9781471199424
Format
Paperback / softback
Published
31-03-2022
Synopsis
What is that stomping and stamping of feet?
It looks like a party on Dinosaur Street!
They're all in a frenzy and eager to go
To the Fizz-whizzing Flash-tastic Fireworks Show!

Welcome to Dinosaur Street! Home to Flashysaurus, Splashysaurus, Whoops-there's-been-a Crashysaurus, and a whole host of other loveable characters. With the most energetic rhythm and rhyme this is huge fun to read aloud and will encourage lots of reader engagement. The hilarious Who Will You Meet series is sure to become a repeat-read family favourite.

Next up: Who Will You Meet on Halloween Street, due to publish 01/09/2022.
Reviews
Amanda
This beautifully illustrated, colourful book is bound to draw even the youngest child in. The front cover demonstrates the fun and creativity within through the bold colours and expressions on the characters faces. This is a story that children will be joining in with and asking for again and again thanks to the rhythm and rhyme of the text.
Creative minds will have fun creating new dinosaur names and spotting why characters have been illustrated as they have. Whilst reading this book with children you could begin to introduce character profiles with them by discussing dinosaurs personalities, likes, dislikes as well as what they might eat. This could be developed by children drawing their own dinosaur creation, naming it and describing what it would be like.
There are many dinosaur stories on the market, however, Who will you meet on Dinosaur Street?, I feel, offers a far more fun and creative slant, bringing something new to the 'party'. I would definitely recommend this for foundation stage and KS1 book corners, I will also be buying this as a gift for some of my small friends as I know it will become a bedtime favourite.
Picture book / Reviewed by Amanda Shipton, teacher
Suggested Reading Age 3+
Other titles