Wigglesbottom Primary: Dino Chick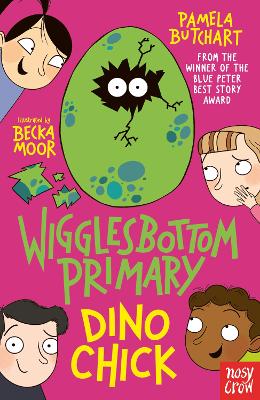 By Author / Illustrator
Pamela Butchart, Becka Moor
Genre
Funny Stories
Age range(s)
5+
Publisher
Nosy Crow Ltd
ISBN
9781839940712
Format
Paperback / softback
Published
04-03-2021
Synopsis
The strangest things happen at Wigglesbottom Primary! When Year Two is chosen to look after some eggs that are about to hatch, they KNOW somthing is strange about one of them. What if it's not a chick egg, but a DINOSAUR EGG??? More funny school stories from award-winning Pamela Butchart, brilliantly colour-illustrated by Becka Moor.
Reviews
Nicola
Wigglesbottom Primary – Dino Chick contains three short stories that are easily accessible and laugh out loud funny, from the title story focusing on the arrival of some eggs in class (imagine the surprise when one of them turns green, what on earth will hatch?). This is followed by The New Girl, a story everyone can relate to in a classroom and a touching but comedic tale of how to make people feel welcome on their first day, and finishing with the Cupcake Caper, which perfectly demonstrates the strength and passion that children have when they share a goal!
I really enjoyed these short stories, the characters were funny and cheeky but full of warmth and care, they reminded me of children within my own school and this is testament to the writing and meant that I felt part of the story. I would recommend this book for year 2 and year 3 aged children and those that enjoy a text they themselves can relate to as everyone is able to spot a character in the class that they recognise.
Children that enjoy humour and a touch of mischievousness would find these tales engaging and it is a book that will spend very little time sat on the shelf within a classroom.
112 Pages / Reviewed by Nicola Mansfield, teacher 
Suggested Reading Age 5+
Other titles