World-whizzing Facts: Awesome Earth Questions Answered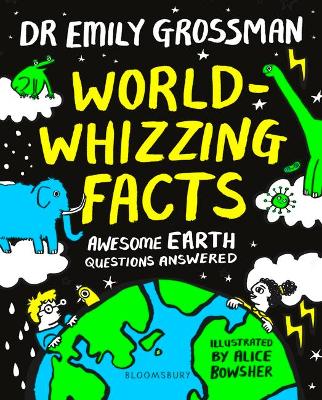 By Author / Illustrator
Dr Emily Grossman, Alice Bowsher
Genre
Environment
Age range(s)
7+
Publisher
Bloomsbury Publishing PLC
ISBN
9781526602435
Format
Paperback / softback
Published
24-06-2021
Synopsis
In this new book, TV science expert Dr Emily Grossman answers incredible and important questions about our natural world. You'll find out silly things like why some animals do square-shaped poos and which direction a dog is likely to face while weeing, but you'll also learn what climate change and wildlife loss are actually doing to our planet and what YOU can do to help.
Covering a diverse range of key science topics, from human biology and animals and plants to the weather and space, Dr Emily shows readers why Earth is so weird and wonderfully great. Did you know there's a planet in our solar system where it actually rains diamonds? Imagine that! If you lived there, you'd always be picking them out of your hair, your pockets and probably your pants! Dr Emily also tackles Earth's BIGGEST problem: climate change. Through clear, sensitive explanations, you'll find out what is actually happening to our Earth and what this means for both humans and wildlife - and what we can all do to help!
Written by TV science expert, STEM ambassador and advocate for women in science Dr Emily Grossman, this book will make your eyebrows rise, your jaw drop and your world WHIZZ! It will also give you hope about our future and how we can ALL make a difference.
Emily Grossman's first book Brain-fizzing Facts: Awesome Science Questions Answered was shortlisted for the Teach Primary Book Awards 2020.
'Never mind the kids, I've had an education from reading this book! ... Recommended for any budding scientists, eco-warriors or fans of weird facts' Rachel Riley, TV presenter and mathematician. 'The best way to get out of being bored is discovering something new. The great thing about this book is it whizzes you off to a world of facts you had never heard of. Result: not being bored. Result!' Michael Rosen, Children's poet and author. 'Every page bursting with fantastic facts you never thought you needed to know. Indispensable, planet-saving, fact-tastic fun for all the family!' Dallas Campbell, BBC Science presenter.
Reviews
Sharon
'When my teacher gave me this book to read I knew she had given me it for a reason. When I flicked through the pages my first thought was, I'll never get through all this, but how wrong I was. I loved the fact that the book is full of weird and wonderful answers to random questions. My favourite question was the one about dogs weeing. Little did I know there was so much to it. The facts made me start to watch dogs more carefully, especially my puppy. To be honest it's driving me a bit crazy! You can pick up and dip into this book for 5 minutes or half an hour. It is so interesting. G aged 9
World-whizzing Facts: Awesome Earth Questions Answered is a fact-filled, action packed book which has captured the imagination of several children in my class already. They love the 'dip into and read' section of question/answers and despite the pages being crammed with information, this hasn't put them off. Dr Grossman seems to have hit a great balance of whacky questions to grab the reader's attention and them slide the scientific explanation into the text without the children even realising… it is brilliant.
I would recommend this for 7+ year olds as a great scientific reading for pleasure book. We will definitely be on the lookout for others in the series.
256 pages / Reviewed by Sharon Porter, teacher
Suggested Reading Age 7+
Other titles