Colour Fiction books for young readers
Posted on Friday, March 25, 2022
Category: Reading Resources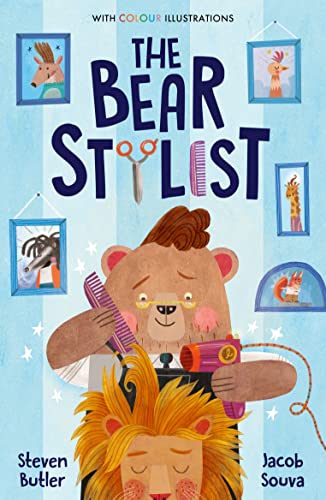 The Colour Fiction books from Little Tiger Press are designed to bridge the gap between reading schemes and chapter books. 
The Colour Fiction series comprises highly illustrated books that aim to support young readers in building their confidence before they move on to chapter books. ReadingZone asked three teachers - Maria Faithorn, Wendy Kelly and Amanda Shipton - to tell us how well the books do this, and if they would use the books in their own classrooms or at home? This is what they told us.
Discounted Sets of Colour Fiction books available
Teacher reviewers:
Who do you feel the Colour Fiction books are aimed at?
"These books are ideal for all children who are emerging readers and are confident with their phonics, sight reading and who are building up their speed and stamina whilst reading," says teacher Maria Faithorn, pointing the 'gap' in provision where reading schemes (which cover phonic development) end, and children move on to chapter books. She adds, "For children in year 2 I have often found that the content of 'free reading' books is not always age appropriate. These colour fiction books are perfect for these children as the content is understandable and relatable." She would use the series of books with more able children in KS1 and struggling readers in KS2.

What were your initial impressions on seeing a selection of the books?
"I was delighted with them when I opened the box," says teacher Wendy Kelly. "The books immediately ooze quality - the hardbook covers are textured and the paperback cover is good, solid cardboard. These feel like substantial, sophisticated books." With a bold, engaging colour palate and enticing cover art, "Even the most reluctant reader will linger over these."
Amanda Shipton, teacher, adds, "These are attractive books which appear more grown up than a picture book whilst retaining the colourful charm that often draws children in. The vocabulary is of high quality including lots of imagery which will aid children's English skills as they become authors during their writing sessions."
Faithorn also notes, "There is not too much text on each of the pages. This is something children often look for - too much is often something that would deter children from reading a book. Children also love page numbers! They will often flick to the end to see how many pages there are and will love that these books are nearly 100 pages long!"

What do you think of the highly illustrated approach and the quality of the illustrations? Will this encourage children to pick up the books?
The highly illustrated nature of the stories will help bridge that gap between picture books and novels, which are predominantly text rather than images, says Shipton. The use of illustrations will also assist the reader with the understanding of the story without them being too heavily reliant on them, says Faithorn. "The style of these books will be a perfect platform between phonic picture books and chapter books with little or no illustrations. "

What about the stories themselves?
The stories strong and engaging, says Kelly. "I was quite surprised that there is so much packed into them. They are very cleverly written to include a lot of facts about animals, localities, space etc, without trying to make it seem like the reader is being spoon-fed this information. This makes them good for developing comprehension skills." The stories themselves are enjoyable, she adds, with enough of a plot to keep the reader interested in what happens next while being easy to follow.

Is the level of text appropriate for the readership?
While the text can be challenging, Kelly says it is mostly decodable with a good knowledge of sight vocabulary. "The inclusion of some interesting vocabulary is worthy of note but, as there is no glossary, it would depend on the child asking for a definition or independently looking it up," she says. "A description of sand dunes 'rising up like a tsunami' requires the reader to know what a sand dune is, what a tsunami is and then work out what sand is being described as a cascading wall of water… quite complex for some upper key stage 2 children!" But she adds, "The fact that the text is so broken up with illustrations is definitely an aid to reading - it makes each chunk achievable, despite the challenging language."
Apart from the more challenging words, which children may need to retrieve through context or by asking an adult, the vocabulary choices are "age and ability appropriate", says Faithorn. 

What are the Colour Fiction books' strengths? Will they encourage young readers to keep reading?
This series with its context and illustrations are bold and engaging for children says Faithorn, who also feels the way the books are designed means they will appeal to this age group without appearing too young. "These books will definitely keep children engaged and keen to read as they get older. The addition of a book mark/ribbon would be the only thing I would change for its design. From my experience, young readers are generally still learning to carry a book flat so bookmarks often fall out!"

Kelly adds, "There would be a certain cachet to having read them all, I think." If she were to add anything, she says, "it would perhaps be selecting some of these challenging words and highlighting them in bold and providing a definition at the back of the book or the foot of the page."

Would you buy the Colour Fiction books for your own library or classroom?
"I certainly would. Very desirable little books of loveliness!" says Kelly. As well as making a great addition to school reading provision, Kelly feels they are also ideal for home use. "At home, children can begin by having them shared with them before moving on to reading them independently. And they are so appealing that they will definitely become books that are read again and again, even as the reader gets older and is capable of reading more advanced texts." She adds, "In my house, these books have already been read and very much enjoyed by my own children who are very able KS2 and KS3 readers!"
In the classroom, Shipton adds, "They would be really useful as guided reading texts in schools where you can focus on language, description and comprehension of plot line with children developing fluency," as well as being useful as reading books for individual readers.

Find out more about the Little Tiger Press's Colour Fiction series
A wide range of Colour Fiction books are available; some of these have been reviewed for ReadingZone by teachers: