Marshmallow Clouds wins CLiPPA 2023 poetry award
Posted on Monday, July 10, 2023
Category: Book Awards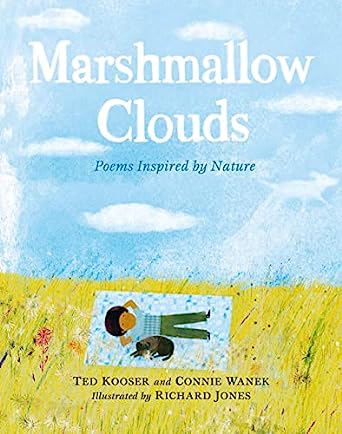 Marshmallow Clouds: Poems Inspired by Nature, by Ted Kooser and Connie Wanek, and illustrated by Richard Jones, has won the CLiPPA poetry award.  The judges have also awarded Highly Commended to Nicola Davies for her powerful examination of the refugee experience, Choose Love, illustrated by Petr Horáček.   The poetry award is run by CLPE (Centre for Literacy in Primary Education). 
The winners were announced at a live ceremony onstage at the National Theatre. The shortlisted poets read their poems onstage to a full house, and the CLiPPA Poetry Show also featured live poetry performances by primary school children, winners of the CLiPPA Shadowing Scheme.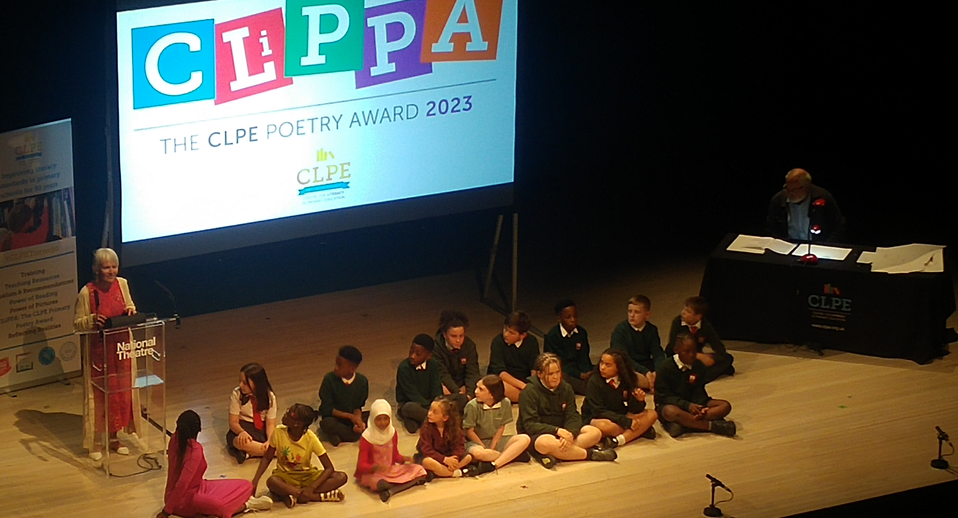 Nicola Davies accepts her CLiPPA award at the award ceremony at the National Theatre, together with the young poetry performers.
Charlotte Hacking, learning programme director at CLPE and member of the CLiPPA judging panel, said, "Marshmallow Clouds is an outstanding poetry book with beautifully crafted poems full of evocative imagery and wonderfully resonant illustrations. It's an exceptional example of poetry published for children, speaking to children of all ages about the world around them and their place within it."
Ted Kooser was the US Poet Laureate from 2004 to 2006 and won a Pulitzer Prize for his book of poems Delights & Shadows. His picture books include House Held Up by Trees, illustrated by Jon Klassen; and Mr. Posey's New Glasses, an International Literacy Association Children's Choice, illustrated by Daniel Duncan.  Connie Wanek is the author of four books of poetry, including Rival Gardens: New and Selected Poems, the second book in the Ted Kooser Contemporary Poetry Series.
Nicola Davies is the author of more than 80 books including picture books, non-fiction, fiction and poetry for children and adults. She has written widely on many subjects including environmental science, children's rights, disability, grief and refugees.
The shortlist also featured current Children's Laureate Joseph Coelho with Blow a Kiss Catch a Kiss, illustrated by Nicola Killen (Andersen Press); these are the words by Nikita Gill (Macmillan Children's Books); and Let's Chase Stars Together, by Matt Goodfellow (Bloomsbury Education).
Schools across the UK have explored the shortlisted collections through the CLiPPA Shadowing Scheme, in which thousands of children in hundreds of classrooms perform poetry from the collections. The young creators of the best poem performances took part in the award ceremony, performing poems from each of the shortlisted collections live onstage alongside the poets.
Six-year-old Darci from Swaffield Primary School, Wandsworth performed the poem 'Uplifting' from Joseph Coelho's collection; eight-year-old Reem from St Matthews CofE Primary School, Birmingham, performed 'Marshmallows' from the winning collection; and a group of 12 young people from St Margaret Mary's RC Primary School in Manchester performed 'I hope it rains today', a poem from Matt Goodfellow's collection Let's Chase Stars Together. Oluwajomiloju, who is in year six at Carterhatch Primary School in Enfield, performed 'Remember III' from Nikita Gill's these are the words; and nine year old Fatima from Hillbrook Primary School, Tooting, performed 'Unbroken' from Choose Love.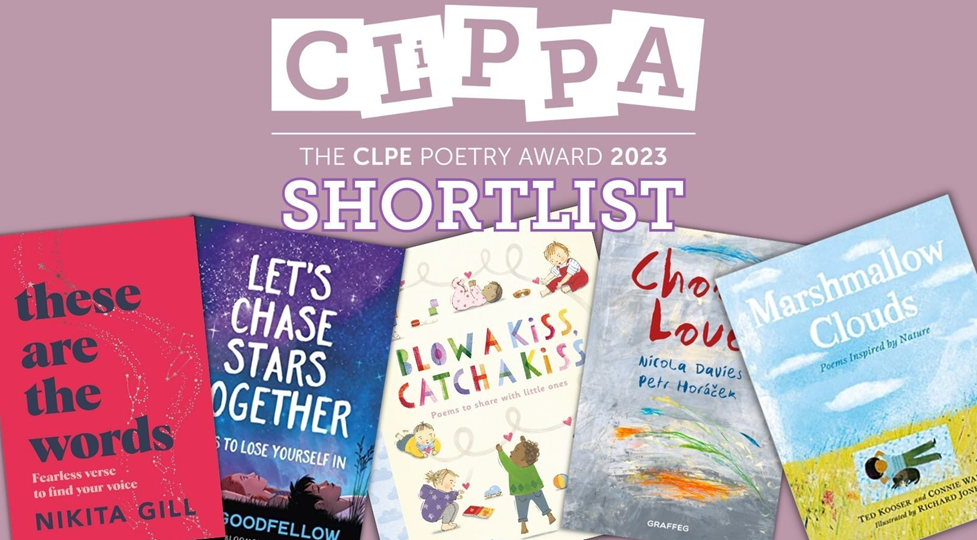 The CLiPPA Shortlist included:
Blow a Kiss Catch a Kiss by Joseph Coelho, illustrated by Nicola Killen, Andersen Press. 'A well-written, carefully considered first collection for the very young, full of poems which catch and reflect their emotions', said the judges, who also praised its moments of sophistication.
Choose Love by Nicola Davies, illustrated by Petr Horáček, Graffeg. Choose Love provides insight into the real-life experiences of refugees forced to leave their homes to face an unknown future. In the judges' words, it is 'Angry, compassionate, campaigning and written from the heart'. They also describe it as 'humane and uplifting - what poetry is for'.
These are the Words by Nikita Gill, Macmillan Children's Books. Nikita Gill's collection features poems of rage, consolation, solidarity, hope and love and is 'a book that readers will hold to their hearts', say the judges, who highlight the way it connects so strongly with its audience.
Let's Chase Stars Together, by Matt Goodfellow, Bloomsbury Education. 'This is also a book that fully considers its intended audience' say the judges, 'Matt Goodfellow explores the power of poetry to make sense of their experiences in poems that are heartfelt and moving, alongside others that are simply very funny.'
Marshmallow Clouds by Ted Kooser and Connie Wanek, illustrated by Richard Jones, Walker Books. The judges said, 'Marshmallow Clouds is a beautiful book and we loved the feel of it as much as the poetry. With its beautifully crafted verse, it's a book that demonstrates that good poetry for children transcends age barriers.'
The judges included Chris Riddell, former children's laureate and poetry anthologist, together with 2022 CLiPPA winner poet Valerie Bloom, writer Indigo Williams, and Jay Bhadricha, head of programmes at the Forward Arts Foundation, along with Charlotte Hacking, learning and programmes director at CLPE. 
Louise Johns-Shepherd, chief executive of CLPE, said, "Our recent research project, The Big Amazing Poetry Project, reveals how much enthusiasm there is for including poetry in the classroom; teachers told us how much they and their pupils enjoy the experience of reading and hearing poetry read, and how many also enjoy performing it themselves."
Find out more   Follow on Twitter @clpe1 #CLiPPA2023