Shortlist for the Little Rebels Award for Radical Children's Fiction 2022
Posted on Wednesday, May 4, 2022
Category: Book Awards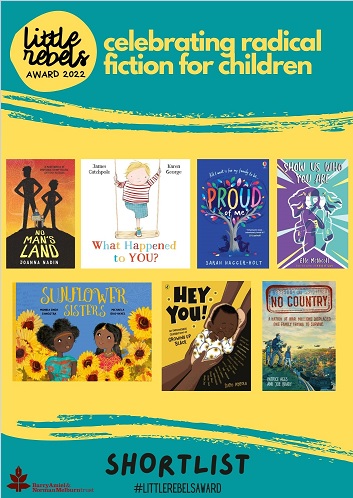 The Little Rebels Award celebrates radical children's fiction for readers age 0-12, highlighting books that promote social equality and social justice.
The shortlist for the Little Rebels Award 2022 has been announced and includes seven books that touch on a wide range of pressing social justice issues, from fake news to digital eugenics.
This year Letterbox Library, which helps run the awards, has for the first time also produced resources/reading guides for the list of shortlisted books for homes, schools and libraries. The shortlisted book sets can also be bought from Letterbox Library.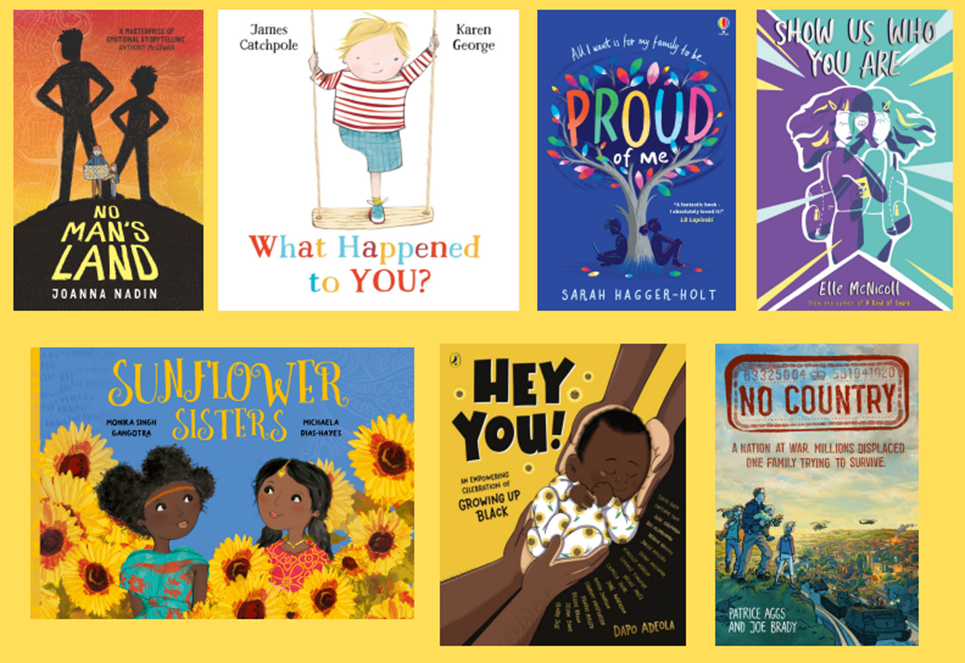 The Little Rebels 2022 shortlist in full:
Hey You!: An Empowering Celebration of Growing Up Black by Dapo Adeola, illustrated by various (Puffin Books/PRH)
No Country by Joe Brady, illustrated by Patrice Aggs (David Fickling Books)
No Man's Land by Joanna Nadin (UCLan Publishing)
Proud of Me by Sarah Hagger-Holt (Usborne Publishing)
Show Us Who You Are by Elle McNicoll (Knights Of)
Sunflower Sisters by Monika Singh Gangotra, illustrated by Michaela Dias-Hayes (Owlet Press)
What Happened to You? by James Catchpole, illustrated by Karen George (Faber & Faber)
The winner will be announced at a ceremony in July. The judges who will decide the winner are: Shaun Dellenty, Jim McSweeney, Jake Hope, Emily Haworth-Booth and Farrah Serroukh. Thanks to the Barry Amiel and Norman Melburn Trust, the Little Rebels Award prize money is again £2k. 
Award organiser and Letterbox Library director Kerry Mason said of the shortlist, "As always this shortlist highlights how keenly attuned UK creators are to contemporary fears and anxieties while also demonstrating how even the most complex of social issues can be expertly distilled into a few pages for the very youngest readers."
Last year's Little Rebels Award winner was Boy, Everywhere by A.M.Dassu, published by Old Barn Books.  This year marks the tenth anniversary of the Little Rebels Award, a period which has witnessed a surge in social-justice-themed books for children within UK publishing. Over 45 publishers now submit to the award annually.
Follow on Twitter @littlerebsprize or on Insta @littlerebelsaward