Shortlists for the Costa Book Awards 2021 announced
Posted on Tuesday, November 23, 2021
Category: Book Awards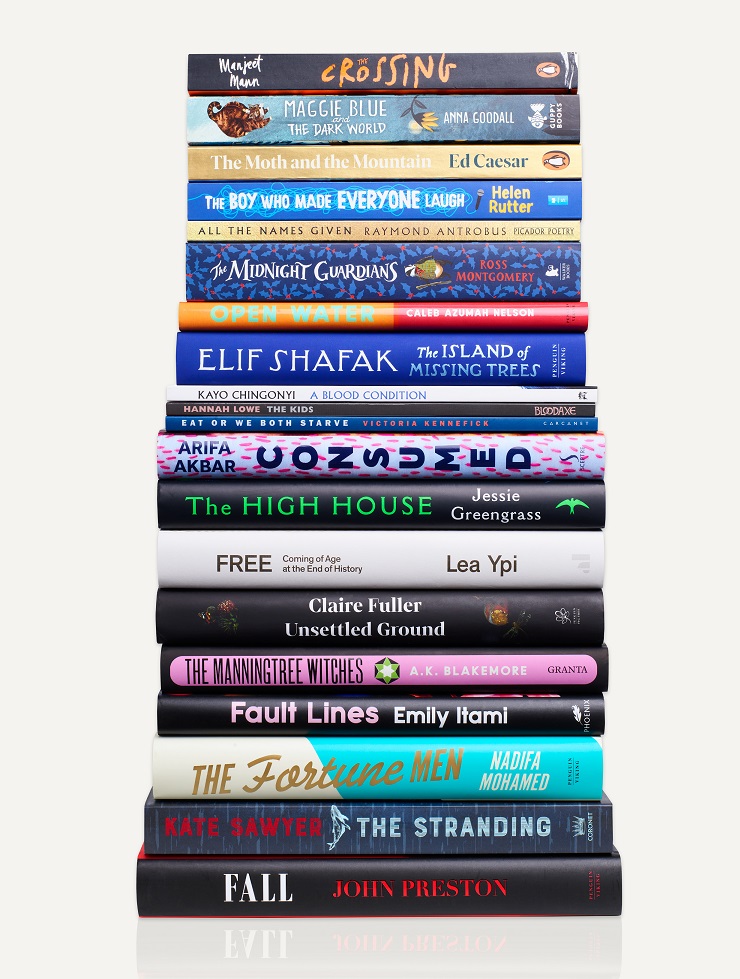 The books shortlisted for the 2021 Costa Book Awards have been announced and include four outstanding books for children and young people.
The Shortlists for the Costa Book Awards 2021 include the Costa Children's Award, Costa First Novel Award, Costa Novel Award, Costa Biography Award and the Costa Poetry Award.
The Costa Children's Award shortlist includes Ross Montgomery's The Midnight Guardians, an adventure set during the Blitz, and Manjeet Mann's The Crossing; a verse novel is born out of the refugee crisis.  They are joined by two debut authors, actor Helen Rutter, whose novel The Boy Who Made Everyone Laugh, about a would-be stand-up comedian with a stammer, was inspired by her son Lenny; and scriptwriter turned novelist Anna Goodall, who explores concepts of identity and mental health from a unique perspective in Maggie Blue and the Dark World.
This year's Costa Book Awards attracted 934 entries, an increase of over 30% on 2020 and the highest number of entries received in one year to date.  The Costa Book Awards is now the only major UK book prize open solely to authors resident in the UK and Ireland, and it marks its 50th anniversary this year.   
Winners in the five categories, who each receive £5,000, will be announced on Tuesday 4th January 2022. The overall winner of the 2021 Costa Book of the Year will receive £30,000 and be announced at a ceremony on Tuesday 1st February 2022.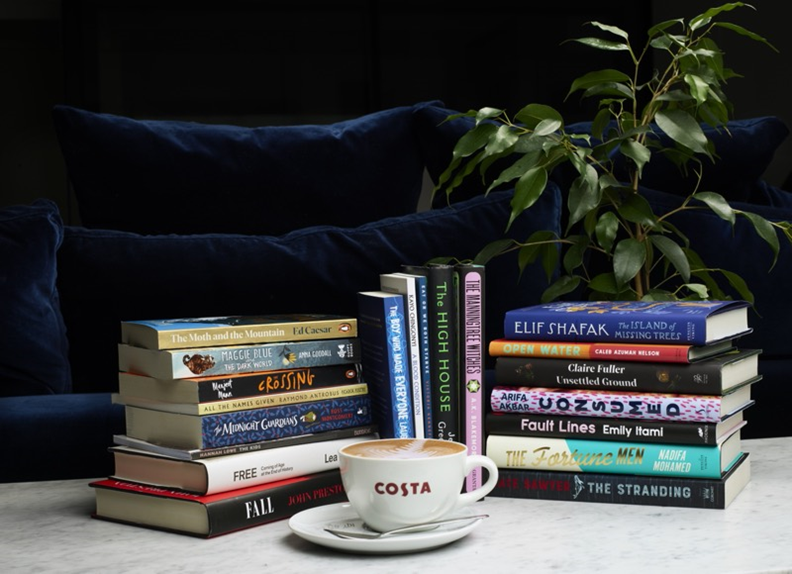 Costa Book Awards 2021 Shortlists
2021 Costa Children's Award shortlist

Maggie Blue and the Dark World by Anna Goodall (Guppy Books)
The Crossing by Manjeet Mann (Penguin)
The Midnight Guardians by Ross Montgomery (Walker Books)
The Boy Who Made Everyone Laugh by Helen Rutter (Scholastic UK)
2021 Costa First Novel Award shortlist

Open Water by Caleb Azumah Nelson (Viking)
The Manningtree Witches by A.K. Blakemore (Granta)
Fault Lines by Emily Itami (Phoenix)
The Stranding by Kate Sawyer (Coronet)
2021 Costa Novel Award shortlist

Unsettled Ground by Claire Fuller (Fig Tree)
The High House by Jessie Greengrass (Swift Press)
The Fortune Men by Nadifa Mohamed (Viking)
The Island of Missing Trees by Elif Shafak (Viking)
2021 Costa Biography Award shortlist

Consumed: A Sister's Story by Arifa Akbar (Sceptre)
The Moth and the Mountain: A True Story of Love, War and Everest by Ed Caesar (Viking)

Fall: The Mystery of Robert Maxwell by John Preston (Viking)
Free: Coming of Age at the End of History by Lea Ypi (Allen Lane)

2021 Costa Poetry Award shortlist

All the Names Given by Raymond Antrobus (Picador)

A Blood Condition by Kayo Chingonyi (Chatto & Windus)

Eat or We Both Starve by Victoria Kennefick (Carcanet Press)

The Kids by Hannah Lowe (Bloodaxe Books)

Shortlist for the 2020 Costa Children's Book Award (selected from 194 entries)
This year's judges for the Children's Book Award include Gill Edwards, owner, The Little Ripon Bookshop; Smriti Halls, author; Lucas Maxwell, school librarian, writer and podcaster.

Judges summary of the 2021 Costa Children's Book Award shortlist: 'This shortlist encompasses books with enormous courage, humour and hope and will have readers hooked.'
Maggie Blue and the Dark World by Anna Goodall (Guppy Books)
Maggie has always preferred her own company, but when she witnesses the kidnap of the school bully, she knows she is the only one who can help. After all, nobody would believe that the kidnapper was the school counsellor. With only a sarcastic talking cat for company, Maggie finds herself entering a dark and dangerous world - a place where happiness is valued above everything.
Anna Goodall was born in London into a family of musicians. After working in publishing, running a small literary magazine, bookselling and very occasional journalism, Anna took a Masters in Scriptwriting at Goldsmiths. Maggie Blue and the Dark World is her first novel.
Judges: 'A thrilling, fantastical adventure - original, engaging and with the best talking cat since Alice in Wonderland.'
The Crossing by Manjeet Mann (Penguin)
Natalie's world is falling apart. She's just lost her mum and her brother marches the streets of Dover full of hate and anger. Swimming is her only refuge. Sammy has fled his home and family in Eritrea for the chance of a new life in Europe. Every step he takes on his journey is a step into an unknown and unwelcoming future. The Crossing is about two teenagers from opposite worlds - a profound story of hope, grief, and the very real tragedies of the refugee crisis, written in verse.
Manjeet Mann is an actor, playwright, screenwriter and director. She is the founder of Run the World - an organization that works with women and girls from marginalized backgrounds and helps to empower them through sport and storytelling. She lives in Kent.
Judges: 'Powerful, intelligent and emotive - it demonstrates in its very fabric just how little truly separates us.'
The Midnight Guardians by Ross Montgomery (Walker Books)
Sometimes at the darkest hour, hope shines the brightest…
When Col's childhood imaginary friends come to life, he discovers a world where myths and legends are real. Accompanied by his guardians - a six-foot tiger, a badger in a waistcoat and a miniature knight - Col must travel to Blitz-bombed-London to save his sister. But there are darker forces at work, even than the Nazi bombings. Soon, Col is pursued by the terrifying Midwinter King, who is determined to bring an eternal darkness down over everything.
Ross Montgomery started writing stories as a teenager. His debut novel, Alex, the Dog and the Unopenable Door, was nominated for the 2013 Costa Children's Book Award and the Branford Boase Award. It was also selected as one of The Sunday Times' "Top 100 Modern Children's Classics". His books have also been nominated for the CILIP Carnegie Award while his picture book Space Tortoise was nominated for the Kate Greenaway Award and included in the Guardian's Best New Children's Books of 2018. He lives in London with his girlfriend and their cat, called Fun Bobby.
Judges: 'A hugely entertaining, fast-paced adventure with a cast of fabulous characters.'
The Boy Who Made Everyone Laugh by Helen Rutter (Scholastic UK)
Billy is an eleven-year-old boy with a big dream. He wants to be a stand-up comedian when he grows up: delivering pinpoint punchlines and having audiences hang on his every hilarious word. A tough career for anyone, but surely impossible for Billy, who has a stammer. How will he find his voice if his voice won't let him speak?
The Boy Who Made Everyone Laugh is Helen Rutter's first novel. She lives just outside Sheffield and has worked as an actor for many years. The idea for this story came from her son, Lenny, who has a stammer: she wanted to write the book that he would love to read, starring a child like him. She hopes that children will be able to relate to feeling unheard, different from the rest and unable to find their voice.
Judges: 'Heart-warming, humorous and full of hope and joy.'