Uplifting YA novel wins Branford Boase Award 2023
Posted on Thursday, July 13, 2023
Category: Book Awards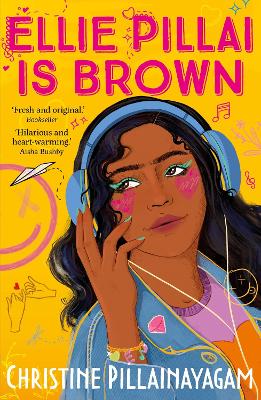 Christine Pillainayagam is the winner of the 2023 Branford Boase Award for the year's outstanding debut novel for young people for her funny, song-filled, second-generation coming-of-age story, Ellie Pillai is Brown.
The Branford Boase Award is unique in honouring editor as well as author and Christine shares the win with her editor, Leah Thaxton, of Faber & Faber.
Ellie Pillai is Brown tells the story of teenager Ellie, who is trying to work out who she is. She loves music and, unbeknown to her parents, who wouldn't approve, is doing drama GCSE. Add first love into the mix, and things get very complicated indeed. Ellie writes songs to describe what she's going through, the addition of QR codes throughout the book allow readers to listen to them.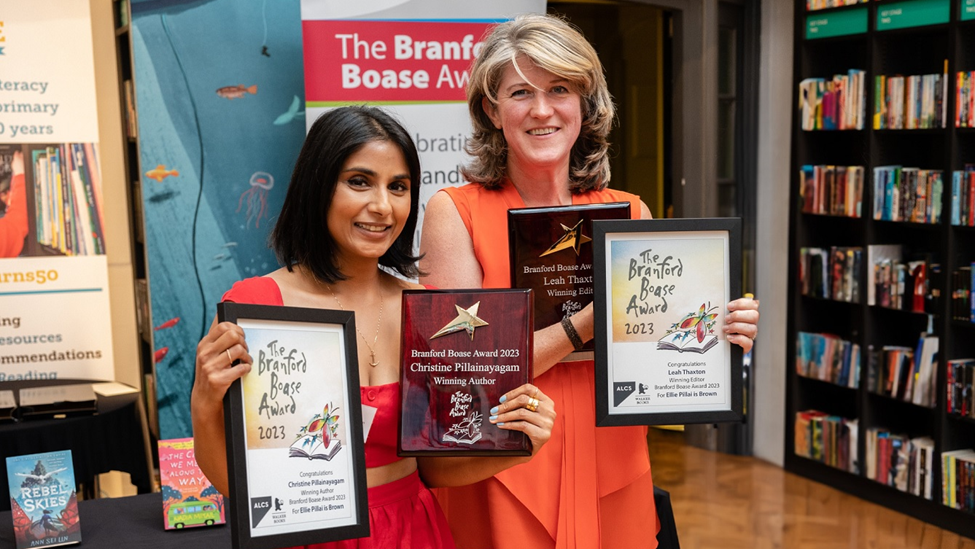 Ellie Pillai is Brown is "a classic coming of age story with the added layer of colour", says Christine Pillainayagam. The idea came from some of her own experiences growing up as a second-generation immigrant in a majority white community: "Ellie's a British teenager growing up with all the classic teenage woes, but she's also caught between two cultures, dealing with family grief and a sense that she doesn't really belong anywhere."
Christine decided to write her book following conversations with her son about race and identity. "Going to bookshops to try and find material to help me support the conversations I was having with him; I didn't see Black and Brown stories on the shelves, particularly ones that focused on joy. It made me want to sit down and write a story for me at 15. Something that would have made me feel seen and understood, that talked about what I was facing with humour but didn't shy away from the more challenging issues."
Christine Pillainayagam introduces Ellie Pillai is Brown, with a song she wrote for the book:
Winning the Branford Boase Award validates stories like hers, says Christine. "A few years ago, an editor I admired was nominated for the Branford Boase Award. At the time, I had a rough manuscript, no agent and nothing close to a book deal. To win this award (my very first!) is so surreal, and so hugely important to me, because it validates that stories like mine belong, bringing a mirror to readers who may feel they've never seen themselves before. I'm so delighted to share this with my brilliant editor Leah, who not only took a chance on me as a first-time writer but gave me the courage to tell the story I needed, without compromise. I think I can officially call myself a writer now!"
Leah Thaxton added, "When I first read Christine's novel I pinched myself - it couldn't possibly be a debut; or this thought-provoking and funny. Christine is the voice of a generation. My journey with Ellie Pillai is Brown has been an honour and a blast - because Christine is the real deal and gorgeous with it too. She writes for readers who absurdly haven't yet seen themselves in novels - what marks her out as exceptional is that she does so with such style, intelligence and charm, citing universal truths that have stayed with me and all who read her novels long after reading. She has the ability to nail character in a sentence, and to write dialogue that sings. I'm just so happy to have been along for the ride. Thank you for the honour of this award but the credit is all Christine's, it honestly is. (But I'll take the praise, anything to hang on to her coattails!)."
Read a Q&A with Branford Boase winner Christine Pillainayagam
Maisie Chan, who won the 2022 Branford Boase Award for Danny Chung Does Not Do Maths and was a judge this year, says, "Ellie Pillai is Brown is a wonderfully lyrical book about the messy teenage years told with humour and pathos. Ellie is a character you want to root for and hug. It is an expertly crafted book that looks at first love, identity and grief."
Her fellow judge, Sajeda Amir, English teacher and KS3 coordinator at Levenshulme High School for Girls in Manchester, said, "When I read Ellie Pillai is Brown, I felt like I was seeing my 16-year-old self in the pages of the book. Whilst I was growing up, I never read a book that featured someone that looked like me and Christine has created an inclusive book in which the main character allows us to be seen and understood. The writing is humorous, poignant and lyrical and whilst the coming of age story is at the forefront of the novel, Christine deals with culture and the trials and tribulations that come with being a second-generation immigrant with care and sensitivity. The soundtrack is a lovely, additional bonus too, the cherry on top of the cake!"
Christine Pillainayagam received a cheque for £1,000 as her prize and she and Leah Thaxton both receive engraved trophies.  
The Branford Boase Award is delivered in partnership with the Authors' Licensing and Collecting Society (ALCS) and supported by Walker Books.