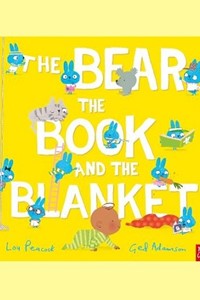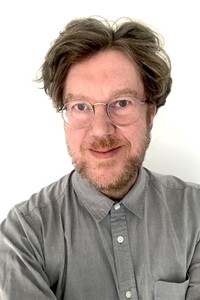 About Author
Ged Adamson:  Ged was born in Liverpool and as a child he was obsessed with drawing, listening to music and making up tunes. In 2016, his story about a short-sighted dog, Douglas You Need Glasses!, received rave reviews and became his breakthrough picture book. Ged has since written and illustrated many books including Shark Dog!, A Fox Found a Box and The Elephant Detectives. He lives in London with his partner and son.
Lou Peacock:  Lou is lucky enough to have one of the best jobs in the world: 'publishing director of picture books' at Nosy Crow. She has over 20 years' experience in children's publishing, starting her editorial career working on novelty books, before moving on to picture books and poetry. She often puts her author hat on to write picture books for Nosy Crow and has a notebook full of scribbled ideas.
Interview
The Bear, the Book and the Blanket (Nosy Crow)
April 2023
The Bear, the Book and the Blanket, written by Lou Peacock and illustrated by Ged Adamson, is an interactive story that encourages very young children (ages 2+) to help get baby to sleep - along with a bundle of helpful blue rabbits.... Ged has also created picture books This is Not a Dinosaur and This is Not a Unicorn with author Barry Timms for Nosy Crow. Here, he tells ReadingZone how his latest picture book developed.

 The Bear, the Book and the Blanket                                 This is Not a Dinosaur                                                This is Not a Unicorn            
Q&A with Ged Adamson
1.   Why did you want to illustrate this text, The Bear, the Book and the Blanket ?
Because it's really funny and I like anything that makes me laugh - I think they're always my favourite picture books. And who doesn't love bunnies and babies?!

2.   How did you approach illustrating this text? Does the interactive element of this story make the pictures even more important as part of telling the story?
I wanted the bunnies to all have individual characters and characteristics. But the important thing was to have a single character to them en masse. In the text, they're a loveable but chaotic mob and I wanted to really show that in the illustrations.
The interactive element means you have to give a sense that the bunnies are engaged with the reader. So they're often looking out of the page straight at you.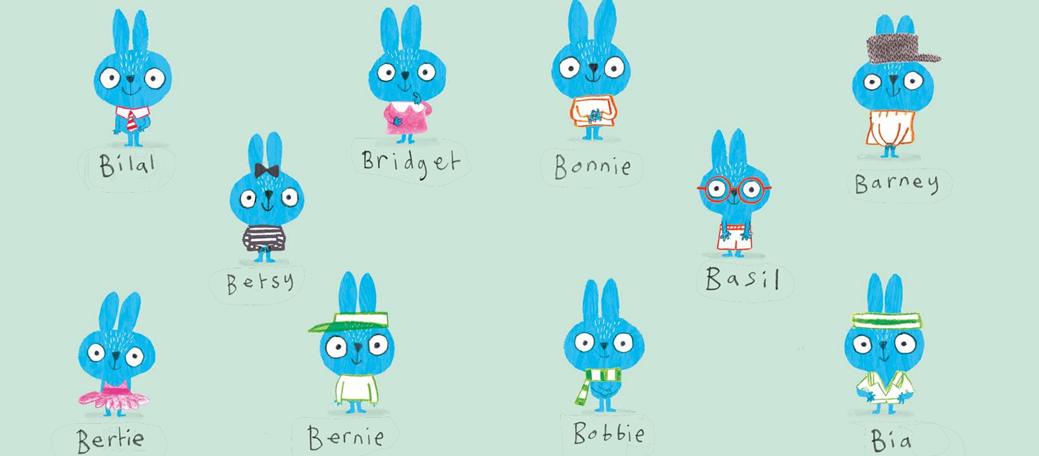 3.   Was there lots of doodling involved in getting the characters' final 'look'?
Absolutely! When Nosy Crow first told me about the project, I was in Edinburgh and I spent some of the time drawing many many babies and bunnies!
There was so much sketching and it took longer to get the look of the bunnies right. For Baby, I just used my son Rex as inspiration. He's a teenager now but those memories of him when he was tiny and crawling around are so clear in my mind.

4.   So many bunnies - why did you decide to have so many, and to make them blue? 
I was originally going to have more! But we decided on ten as being a good round number.  I spent a lot of time trying different looks and colours for the bunnies. Between us, me and Manda Scott the book's designer, eventually settled on blue. We just thought it worked best out of all the options.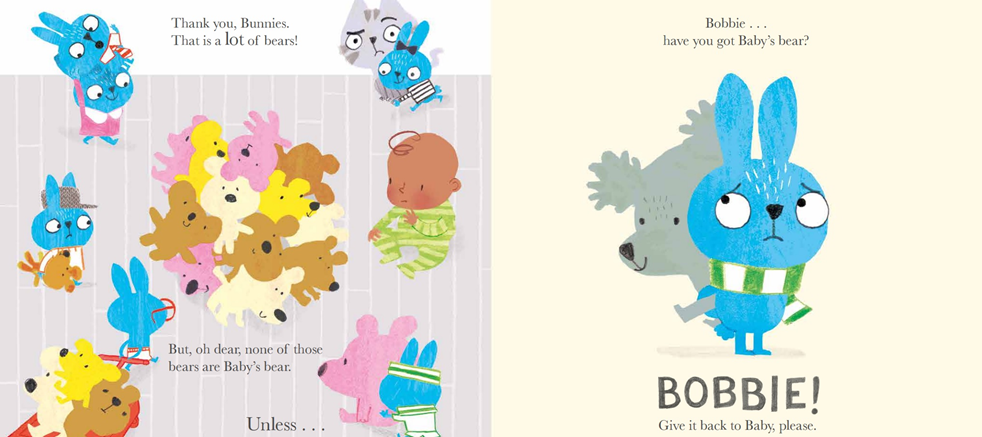 5.   Do you have any favourite characters?
I like Betsy and Bobbie is a favourite definitely. He's so naughty!

6.   How did you create the images for this book?
I drew everything in pencil and then scanned in those images into my mac. I also paint and draw texture and blocks of colour and scan those in too. I then work on all these elements in photoshop.

7.   Which spread did you have the most fun creating?
I really like the bookshelves spread. It took ages to finally get right but it was a lot of fun to put together. Some of the bunnies are distracted from their task by all the reading material. We've all been there! Also, if you look closely, there's even a cameo from my book, The Elephant Detectives.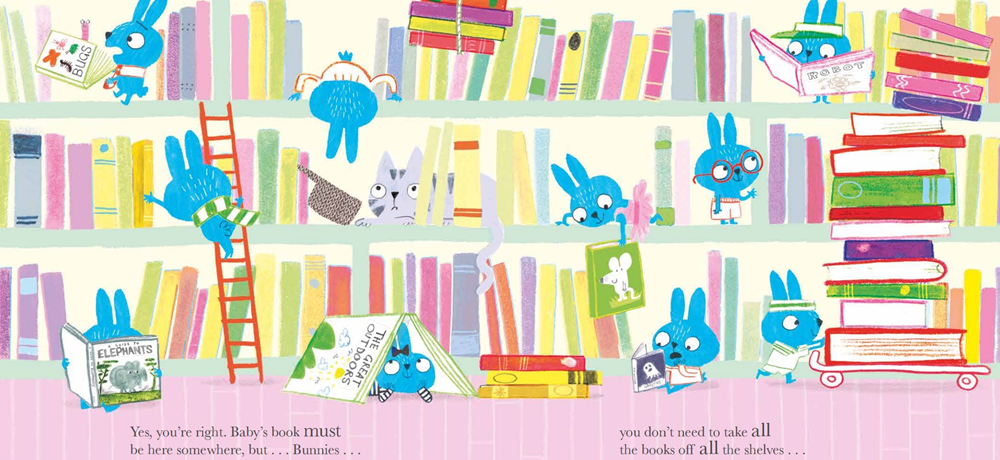 8.   Do you have more picture books coming? What are you working on currently?
I'm about start work on a book written and illustrated by me for Nosy Crow called Be Normal. It's about a boy who gets a dog and the dog isn't what he was expecting at all.
I've also got the third in the Barry Timms 'This Is Not A…' series coming in October. This one's called This Is Not a Polar Bear. It's been so great illustrating these books.
Author's Titles