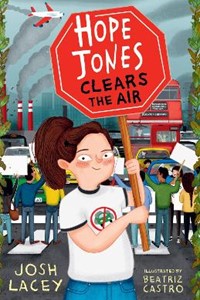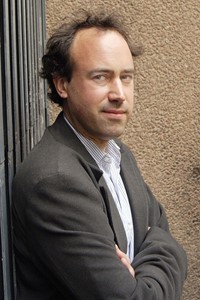 About Author
Josh Lacey's Hope Jones Saves the World series (Andersen Press) is a must for all young environmentalists and those campaigning for change. Josh has also written The Island of Thieves, Bearkeeper, The Dragonsitter and the Grk series. He previously worked as a journalist. His first book for children, A Dog Called Grk, was shortlisted for the Branford Boase Award. Josh lives in London with his wife and daughters.
Interview
Hope Jones Clears the Air (Andersen Press)
Hope Jones is a young campaigner with a big mission - to help save the world! Author Josh Lacey tells us what inspired Hope's campaigns, and introduces the latest book, Hope Jones Clears the Air, about tackling air pollution.
1. Can you tell us about Hope Jones and her campaigns?

Hope Jones is a ten-year-old girl who is worried about climate change, so her New Year's Resolution is giving up plastic. Quickly she finds herself in conflict with her family, her school, and the boss of the local supermarket.

That's the story of Hope Jones Saves the World, which describes Hope's efforts to stop using plastic herself and to persuade the supermarket to use less plastic packaging.

In the second book in the series, Hope Jones Will Not Eat Meat, Hope learns about the environmental impact of industrialised animal farming. She tries being a vegetarian and a vegan, wanting to take greater care over what she eats and where her food comes from.


2. What else does Hope Jones have planned to help save the world?

I think Hope is planning to become Prime Minster. Before she does that, she's going to campaign about air pollution, the subject of the third Hope Jones book, Hope Jones Clears the Air.

Air pollution is a particularly vital environmental issue for anyone who lives in a city. Transport emissions are a major contributor to climate change, of course, but at the same time, around the world, air pollution causes millions of deaths every year, and is directly linked to cancer, lung disease, dementia, and many other serious medical problems.

Hope boycotts cars, persuades her parents to walk or ride bikes rather than driving, and asks her school to ban cars from neighbouring streets. She is also inspired by a trip to Amsterdam - and that city's passion for bikes.

3. Why did you want to write about a young campaigner? What got you started writing these books, and what did you see as the main challenges?

I was inspired by my daughters, who are interested in climate change, and wanted to know about the changes that we could make to our own lives. I didn't want to write a non-fiction book: there are already lots of non-fiction books about climate change - and they're great - but I wanted to write a novel: a story that could be funny and entertaining, but also full of interesting ideas and information. Combining these different things was definitely a big challenge.


4. So your daughters helped inspire Hope Jones - were there any others?

Yes - they inspired me very much. I was also inspired by the people mentioned by Hope in the first book: Mahatma Gandhi, Nelson Mandela, Emmeline Pankhurst, and the women who camped at Greenham Common.

I've been very impressed too by young people who have been devoting so much of their time and energy to fighting climate change: like Kelsey Juliana, for instance, who took the US government to court when she was only 15. In her court case, she suggested that the American people had a constitutional right to a liveable planet, and therefore their government had a moral and legal responsibility to stop polluting the planet.


5. Do you believe children really can make a difference to the world through campaigning?

Yes, definitely. The most important part of any campaign is changing people's minds, and children can do that brilliantly. By talking to their parents, for instance. Or their grandparents. And persuading them to see the world differently or think about things in a new way - and perhaps to vote in a different way too.


6. How do you choose the issues Hope Jones will campaign about?

I suppose they're all things that I care about. And they're also issues that someone like Hope - an ordinary 10-year-old girl - can actually do something about.


7. How much research do you need to do to show both sides of the argument, as Hope does?

None of these issues are simple or clear-cut. I read books and articles, and talked to people who care passionately about these issues, but I also had different voices in my own head, as I had these arguments with myself: whether to walk or get in the car, for instance. Or what to have for lunch: a cheese sandwich, a ham sandwich, or a hummus sandwich - and why?


8. Have you ever campaigned for something to change?

Hope is a much better campaigner than me, but I have gone on marches, signed petitions, and written letters to my MP.


9. Do you enjoy meeting your readers?

Yes I like to hear about the changes that people are making in their own lives - I want to be inspired!


10. Where is your favourite place to write, and what's the hardest part of writing for you?

I like writing at home, alone in a room, often wearing headphones, drowning out the noises in the house. And the hardest part of writing is the next sentence, the one I haven't written yet.


11. What are you writing at the moment?

That's a secret! I never tell anyone what I'm writing until I've finished.


12. When you're not writing, what are you most likely to be found doing?

I like to spend my free time climbing hills and mountains, or going for a walk by a river, and I will do that whenever I can. Otherwise I'll be reading a book or cooking a meal for myself, my wife, and my kids.
In his series Hope Jones Saves the World, author Josh Lacey explores some of the challenges facing our world today, including our use of plastic and what we eat, through Hope Jones's campaigning. In this video, Josh Lacey introduces Hope Jones Will Not Eat Meat:
The Hope Jones books by Josh Lacey (£6.99, Andersen Press) are now available from bookshops
Author's Titles