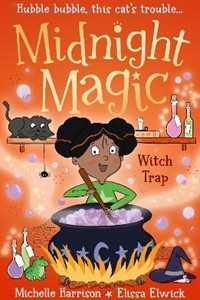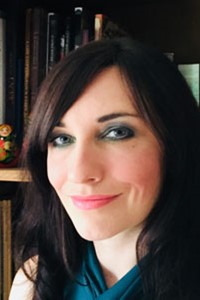 About Author
ReadingZone caught up with author Michelle Harrison to talk about black cats, magic and mischief in her fun series for younger readers, Midnight Magic
Michelle worked as an editorial assistant in children's publishing and as a bookseller at Waterstones before becoming a full time writer. She is also a trained illustrator.  Originally from Grays in Essex, she now lives in Oxfordshire with her partner and child. Her novels include The Thirteen Treasures and the A Pinch of Magic adventures.
Find out more at www.michelleharrisonbooks.com
Interview
Midnight Magic:  Witch Trap  (Little Tiger Press)
October 2022
Look out for mischief, magic and fun in the Midnight Magic books by Michelle Harrison, illustrated by Elissa Elwick, about a special kitten with a magical touch!
                      Midnight Magic extract                               Mirror Mischief extract (book 2)                  Witch Trap extract (book 3)

ReadingZone caught up with author Michelle Harrison to talk about her fun and warm series, Midnight Magic, for young readers aged five to eight years.  The highly illustrated stories with rhyming text follow the adventures of Trixie and her kitten, Midnight.
Watch Michelle read from Trixie and Midnight's latest adventure, Witch Trap:
13  Magical Questions with Michelle Harrison!

1. Do you enjoy writing stories about things magical and witchy?
I do, very much! It sounds strange, but for me the magic has to be just right - and by that I mean not too much. My favourite way to do this is to bring magic into a 'real world' setting, so that it feels believable and familiar to the reader. In the 'Midnight Magic' books, Trixie and her family are ordinary people which is what makes Midnight, the magical kitten, so fun and exciting when they meet her. I find books that are set in completely magical worlds don't capture me as much, but maybe that's just me.

2.   Can you tell us about your Midnight Magic series?
Each 'Midnight Magic' story is a new adventure about Trixie, a young girl who lives with Dad and hobby-mad Nan. When they give stray kitten Midnight a home, they soon discover that the little black cat has powers. Each time she winks something magical happens, from bringing her reflection to life to shrinking to the size of a pea. Life's never dull with Midnight around!

3.   Do you have any favourites from Midnight's three adventures so far?
Book three, Witch Trap is probably my favourite. If ever a book was made for Halloween this is it - from the spooky witch's house to the orange colour palette. There's also a great scene at the end which is set in a book shop, and the illustrator has very cleverly put some of my own books in the shop, including the Midnight Magic books!

4.   What happens in Witch Trap?
In their third adventure, Midnight and Trixie are in the garden on a crisp autumn day. They build a den, jump in leaf piles and even conjure a leaf dragon, which attracts the attention of a witch who happens to be flying by. When Midnight goes missing, Trixie realises the witch has catnapped her. Trixie and her family must track Midnight down - along with the help of some clues, and a magical creature…

5.   Why do you enjoy writing about this mischievous kitten?
I invented Midnight because I'm fond of black cats (and stories about them). When I was little my mum introduced me to Gobbolino the Witch's Cat by Ursula Moray Williams, and since then black cats have always seemed magical and mysterious to me. Sadly, because of their association with witches, some people believe they're unlucky and they're also the most overlooked cats in animal rescues. I wanted to help change people's minds about them. If even one black cat gets a home because of Midnight, I'll be happy.

6.   Can you tell us about the friendship between Trixie and Midnight, which is at the heart of these stories?
The bond between humans and animals can be incredible, particularly as a child with their first pet. The pair meet when Midnight needs Trixie most, after she's abandoned by her mum and siblings for having magical powers which they see as a threat. Unlike them, Trixie views Midnight's magic as a good thing, so it's really about being loved and accepted for who you are. And even though Midnight's magic does get the pair into scrapes at times, they always manage to put things right.

7.   Is it difficult to write these books, as they are written in rhyming text? 
Yes, rhyming stories are tricky. Firstly you have to decide what's going to happen and then you have to work out how you're going to make it rhyme. The books are fairly short at around 2500 words, but on a good day I might only get about 100-200 words written - about three or four verses. To compare, on my longer books for older readers, 2500 words is roughly the length of one chapter and would take me around two and a half days to write. It's a slow process but when you pull off a good rhyme it's really satisfying.

8.   Do you have any favourite characters in the illustrations by Elissa Elwick?
I think Elissa's illustrations are wonderful. It's exciting to see them from the first stages in black and white through to the finished colour artwork. She's really captured the characters perfectly - I especially like Nan and Midnight, who reminds me a little of the Disney Aristocat kittens. I'm always appreciative of anyone who can maintain character continuity - it's a real talent.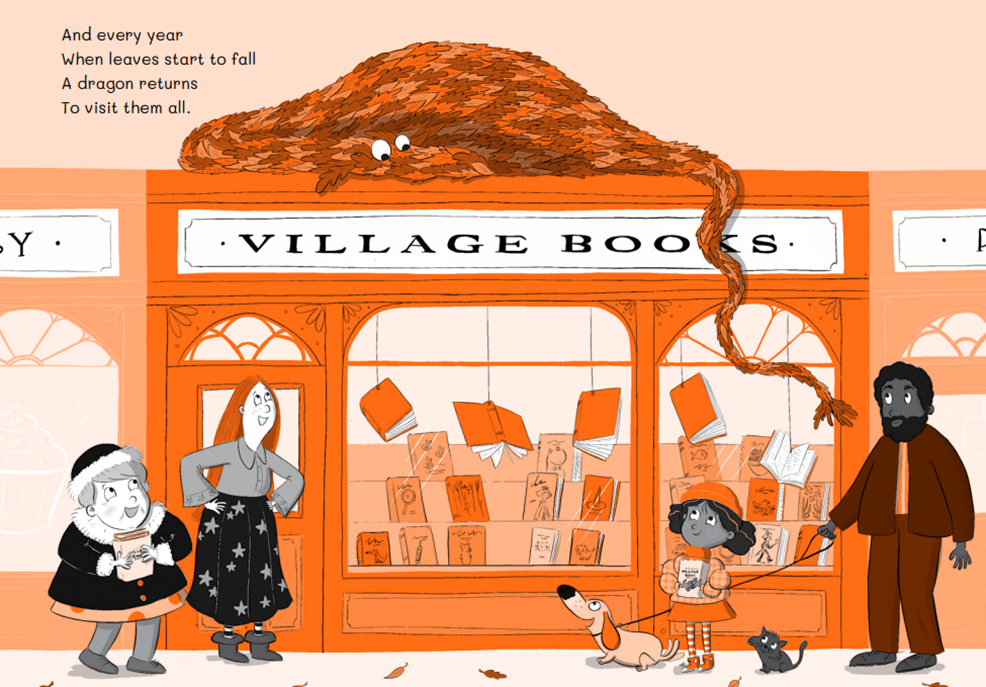 9.   What else do you have planned for Trixie and Midnight?
I'd quite like to write a story in which Midnight finds a way to sneak to school with Trixie for the day, perhaps by shrinking herself into Trixie's pocket… ooooh! Now, that would be fun.

10.   As Halloween is coming up - what is your perfect way to spend the day?
Halloween is one of my favourite times of the year. I enjoy everything about it - the smell of autumn in the air, golden leaves on the ground, and of course all things witchy. I even decorate my fireplace with little pumpkins, cauldrons and broomsticks. My ideal day would start with some Halloween baking and carving pumpkins, before trick or treating with my son. I was never allowed to when I was a kid, and things have moved on a lot since then - we seem to make more effort these days! Then afterwards back home to enjoy too many sweets, spooky films and a Halloween bedtime book.

11.   If you could have Midnight cast a spell for you, what would it do?
I'd love Midnight to enchant my broomstick so I could fly. That would be amazing, even if I did get some funny looks.

12.   And if Midnight could magic up a perfect writer's shed for you, what would it look like?
It would be an old fashioned gypsy caravan with a magical ever-burning stove in the winter and a tea cup that refills itself. I'd have lots of warm comfy spaces for me and my cats to curl up in and a magic broom like Twiggy to keep it all clean for me. Perfect!

13.   What kinds of things do you enjoy doing when you're not busy writing your next story?
I love reading, of course, as well as listening to true crime podcasts, and going to the theatre. I also enjoy baking (I make excellent chocolate brownies)! I recently took a course in making silver jewellery, and sell some of my pieces in a local art gallery.
Author's Titles