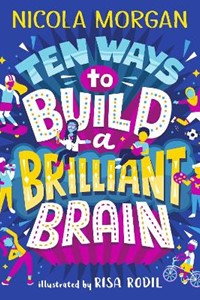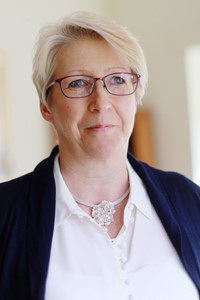 About Author
Nicola Morgan, aka The Teenage Brain Woman, is an award-winning author and speaker on many areas of well-being and learning. Her best-selling examination of the teenage brain, Blame My Brain, was shortlisted for the Aventis Prize; the prize-winning Teenage Guide to Stress, along with The Teenage Guide to Friends, Positively Teenage, Life Online, Body Brilliant, The Awesome Power of Sleep and Be Resilient, underline Nicola's unparalleled expertise.
In 2018, she was awarded the SLA's prestigious award for Outstanding Contribution to Information Books. She used to be a teenage novelist and one day will be again. Her new book is Ten Ways to Build a Brilliant Brain, published by Walker Books
Interview
Ten Ways to Build a Brilliant Brain  (Walker Books)
August 2022
Want to help your brain work just that much harder, and to understand how all the practice and work that you're doing now will help your brain become even better?
Nicola Morgan's new book for young people, Ten Ways to Build a Brilliant Brain, will give you all the practical tips and practices you will need to do just that. Here's Nicola to tell you more about it:
Read a Chapter from Ten Ways to Build a Brilliant Brain
Q&A with Nicola Morgan
1.   Can you tell us a little about how you started writing for teenagers, and what kinds of areas you like to cover?
This is probably the second hardest question I'm ever asked. (I'm not telling you the hardest!) I don't know how I started doing it, just that I did. I wanted to be a writer and I don't mind who reads my books as long as someone does. (Ideally more than one person.)
How it happened with fiction was that I'd been trying to get adult novels published but then I had an idea that I instinctively felt would work for teenagers. That book became Mondays are Red and launched my career as a novelist. But all the time I was also reading about and studying brains and I happened to have the idea of writing about teenage brains, which literally no one in the world had done for teenage readers. And that changed my career and life.
I now don't write fiction - but see below! - but I cover a whole range of topics in my non-fiction: how brains learn, stress and anxiety, friendships and peer pressure, performance, well-being, exam and study skills, body image, sleep, resilience, screen use, reading for pleasure.

2.   How much research do you need to do for each of your books?
It depends. I used to have to do a lot but nowadays I already have most of it in my head and the research just involves checking that everything in my head is still up to date. The book I'm writing now - No Worries, which is about anxiety - requires very little research because I have enough knowledge already. I have a counselling diploma as well and that comes in useful. So, over the 25 years that I've been a published writer I've done huge amounts of research but much more in the early years than now.

3.   Do any of your books to date stand out for you in some way?
Lots of them for different reasons. Blame my Brain stands out as an international best-seller so I'm very grateful for that. Writers usually earn very little from a book but that one has done better than most. Mondays are Red stands out because it was my first 'big' book (as opposed to my early learning books and Thomas the Tank Engine stories!) and Fleshmarket stands out because it's still in print after nearly 20 years.

4.   Why did you want to write Ten Ways to Build a Brilliant Brain
I think young people are genuinely interested in their brains and how to make them work better. I think all age groups are probably interested in how to make their brains work better but young people are the best age to start doing it - their brains are perfectly ready to do all the things in this book, whereas my old brain finds it harder. I still do all these things, though!

5.   And why would you like teenagers to read it?
Because I genuinely really care how they feel and I want to make their lives better. I can't do anything about the things going on in their lives but I can help them make their own brains brilliant and that will help them at every stage of life.

6.   What does the book cover?
Everything you need to know about building a great brain! And everything I wish I'd known when I was young. Each chapter takes one topic - such as sleep or physical activity or being curious - and gives the science behind it and then ideas for how to put it into action.

7.   Why have you included quizzes in the book?
Because some people enjoy them and because everyone learns better when they test themselves on what they've read or heard.

8.   There's also a section on reading and reading for pleasure - is it really that important to read?
100%. Probably one of the most important things. It opens our mind, builds empathy, introduces and stimulates new ideas, increases knowledge, boosts vocabulary, grows wisdom, and reduces stress.

9.   Are there any stand-out pieces of advice in the book that you'd like every teenager to know about?
The chapter about building brain connections might be the most fascinating and empowering. We get good at things by practising them, not by waiting for our natural talents to do things for us (that won't happen!) Success is about determination, effort and practice but while we're doing that, the brain is actually growing physical connections between neurons (brain cells) - so the more you practise, the stronger and more numerous the connections become and the better you become at the skill or knowledge. Your brain changed while reading that paragraph! Use this power well.

10.   Are you writing any more books for teenagers?
Yes. No Worries - How to beat Teenage Anxiety comes out next year. And I'm just about to start writing a gory, gruesome, shocking sequel to Fleshmarket but I don't know if it will be published.

11.   Can you tell us a little about life as an author - is it a 9-5 job?
It's whatever hours I can manage. I'm usually at my desk (in my garden office) at about 8.30 and sometimes I finish at 6.30pm or later. But I don't write all that time - I couldn't! I do a lot of things that are necessary for my work but not actually writing books. For example, I do lots of events so I'm often travelling; I have to do lots of social media activity and write articles and blog posts. And a lot of time I have to spend thinking and planning.

12.   What do you enjoy doing when you're not at your desk?
Gardening (I have a very big vegetable garden), running (I try to run 100km a month), and cooking (I used to be a professional cook). I'd like to spend more time reading but I can only do that just before I go to sleep.
Thank you for the questions. I hope you love the book and that it makes your brain even more brilliant than it is!
Author's Titles