Perdita and Honor Cargill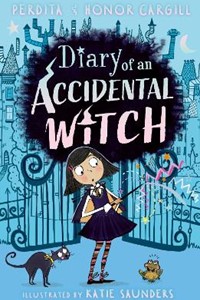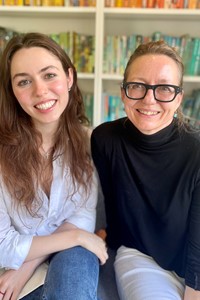 About Author
Honor and Perdita Cargill are a daughter/mother writing partnership and the authors of Diary of an Accidental Witch and Waiting for Callback.
Originally from the Scottish Highlands, Perdita spent many years as a barrister before turning to writing fiction. Honor, having recently graduated from Oxford, is working on fiction and non-fiction writing projects as well as studying for a Masters at The Courtauld Institute. They both live in London.
Interview
Diary of an Accidental Witch (Stripes Publishing)
September 2021
Diary of an Accidental Witch is a funny school story with a difference - this is a school for witches and for new pupil Bea Black, who comes from an ordinary home, there is a lot to learn, very quickly!
It's a brilliant story and here are authors Perdita and Honor Cargill to tell us about it, with a video from Honor Cargill.
Q&A with Perdita and Honor Cargill  
1.  How do you write books together? Who does what?
The way we work is informal and flexible but in a nutshell:  At the start of every project, we talk and talk until the plot and the characters come alive to us. Once we're confident we're imagining the same world we get started. We choose scenes to get working on, playing to our strengths (for example, Honor loves writing the most chaotic and absurd scenes; Perdita would take the quieter scenes).
For the actual writing, to avoid bloodshed, we work separately. We email the drafts to each other and edit and rewrite again and again until (hopefully) the voice is smooth and uniform - coming together to talk through what's working and what's not all the way through. It's not a quick process but it's fun and lively and creative and hopefully some of that comes through on the page!

2.  What sparked the idea for Diary of an Accidental Witch?
Full credit to the team at Little Tiger for this - especially Ella Whiddett and Mattie Whitehead, our brilliant editors. They thought it would be fun to bring together the energy of a diary series with the magic of a witchy school series and we were so excited to get involved. In every way, this project has been the most fun collaboration.
3.   Can you tell us a bit about the book?
The series follows the adventures of 11-year-old Bea Black who moves to Little Spellshire where her dad accidentally enrols her in the Spellshire School for Extraordinary Arts … a school for WITCHES. All her classmates come from witchy families and Bea has lots of catching up to do when it comes to broomstick riding, spell casting and potion making.
That's not all - she's also landed with the care of Stan (the grumpy class frog) and a job on the Halloween Ball planning committee. That's a lot to juggle. Especially when you have to keep your witchy identity secret from your dad and your best (non-witch) friend!

4.   Have you always enjoyed books/films about magic? Any favourites?
The Worst Witch books by Jill Murphy were real favourites - the books are pure joy and forever classics.
Confession time - neither of us have read beyond the first two in the Harry Potter series. Honor is dyslexic and the later books were long (and the dementors a bit scary!) but we've seen all the films and the brilliant HP world-building has seeped into the culture.
Other witch books we love include the Picklewitch & Jack series by Claire Barker; the Apprentice Witch series by James Nicol and the Starfell series by Dominique Valente. Shout out for the Hocus-Pocus film too - so much fun.
5.  Why does Bea Black make such a great 'accidental witch'?
Because Bea doesn't come from a witchy background, she has to learn to make magic through hard work and practise and she has a great attitude to that. Caught quite often between her own brand of sunny optimism and PANIC, she's funny and she can laugh at herself. We're proud of her!

6.  What is your favourite 'Accidental Witch' moment?
Mmmmm … tricky. In the first book either the sugar-high-badly-behaved bat scene or the scene in the Dark Forest when Bea and Stan are 'entertaining' the Frost Moon with a very original song and dance routine!

7.   Why did you decide to pair Bea with a frog called Stan?
Bea needed a very non-judgmental and comforting friend at her side from the very first moment she started at school - Stan just sort of hopped into that role! He's not as cute as Pablo (the Year 8 class frog) and he's terribly grumpy but he's a good and loyal frog to have at your side at moments of mayhem. We didn't intend for him to have a big role but now he's one of our favourite characters!

8.  What would you enjoy most and least at the School for Extraordinary Arts? 
Perdita: I think I'd like Madam Binx's English classes the best. All that poetry and lavender for relaxation! Least enjoyable thing? Professor Crisp's pet python! And I'd be a useless witch because I'm far too set in my ways and I'm a dreadful coward.
Honor: I'm saying Potions because I'd like all the weird ingredients and mixing and cauldron bubbling - and Professor Agu's pet miniature pig of course! Least enjoyable thing? All the SPIDERS. I'm phobic. I like to think I'd do OK at Extraordinary - I'd give it a go anyway!

9.  What's next for Bea Black?
We're so lucky that there are more books to come. Flying High is coming out in February 2022 and we're finishing edits on book 3 right now.

10.  Are you enjoying Katie Saunders' illustrations?
YES!! From the moment we saw her sample drawing of Bea we knew she'd 'got' the character and the world. We love her work - it's absolutely perfect.

11.  Where is your favourite place to write?
Perdita: At home, looking out the window at the HUGE tree in my neighbour's garden.
Honor: I mix it up but maybe cafes - I like the noise and bustle around me.

12.  What do you enjoy doing when you're not writing?
Perdita:  Reading! And when I can spare the time, I love to walk through London for hours with no destination in mind.
Honor:  I'm back at Uni doing a PhD so when I'm not juggling the academic work with writing (I'm writing adult non-fiction too), I just want to hang out with my friends!

13.  If you could create a single spell, what would it be?
Perdita:  A sleep spell. I'm a shocking insomniac.
Honor:  A love potion of course (not that I've selected a victim…)

14.  And if you could 'magic' a writer's shed, what would it look like?
Perdita: I wouldn't care what mine looked like so long as it had a magical view out to sea and I could hear the waves crashing. The dream.
Honor: Oooh can I have one like a beautiful old library with leather-bound books and shelves up to the sky please!

Thank you so much for these great questions!
Author's Titles