Perdita and Honor Cargill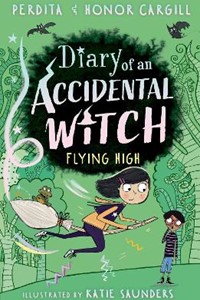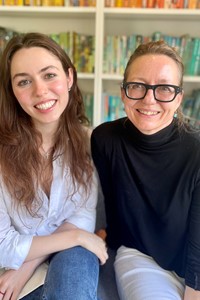 About Author
The second Accidental Witch book, Flying High, sees Bea trying to learn new witch skills, look after the mysterious 'Egg' and find a way to bring her magical and non-magical friends together.
Honor and Perdita Cargill, the duo behind the Accidental Witch series, are a daughter/mother writing partnership.  Originally from the Scottish Highlands, Perdita spent many years as a barrister before turning to writing fiction. Honor, having recently graduated from Oxford, is working on fiction and non-fiction writing projects as well as studying for a Masters at The Courtauld Institute. They both live in London.
Katie Saunders knew she wanted to be an illustrator when she had a picture published in Twinkie Magazine at the age of five. Katie worked as a teacher before becoming a full-time illustrator and now lives in Kent with her partner, two children, two cats and a crazy sausage dog called Rolo.
Interview
Diary of an Accidental Witch: Flying High (Little Tiger Press)
February 2022
Look out for a school tournament with a touch of magic, more spells than you can flick a wand at, and a mysterious 'Egg'.... Welcome to the School for Extraordinary Arts and to Bea's second term at 'witch school'!  Authors Perdita and Honor Cargill tell us more about their latest Diary of an Accidental Witch book, with illustrations by Katie Saunders.
Download a chapter: Diary of an Accidental Witch
Download a chapter: Diary of an Accidental Witch: Flying High
Enter our Competition to win a set of both books!
Q&A with Perdita and Honor Cargill
1. What gave you the idea for your Diary of an Accidental Witch series?
It was actually the brilliant team at our publisher, Little Tiger, who came up with the concept of creating a witch school series that was in diary form. We feel very lucky that they let us to go wild with that idea!

2. Did you dream of being a witch or being able to cast spells as a child? 
P: It's a long time ago but I think I was scared of witches when I was little. I imagined them as impossibly spooky and old-haggish and not at all like the witches we write about.
H: I loved Jill Murphy's Worst Witch books - so yes, I'd have loved to have gone to witch school. I can't remember ever trying to do a spell on anyone but I was a very enthusiastic potion (mess) maker!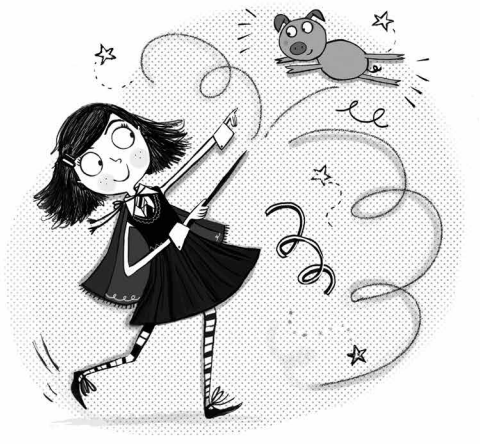 3. How do you write the books together?
We talk and talk about the plot and the characters until it all seems real to us and we're confident that we're imagining the same bonkers world (this is probably where knowing each other so well is a huge help). Then we each get started on different scenes and swap them between us, over and over, editing and rewriting until the 'single' voice is - hopefully - smooth. It takes a long time but we hope it brings lots of fun and creativity to the page.

4. Can you tell us what happens in book 1 and book 2, Flying High?
Book one is Bea's first diary - she's just turned up in Little Spellshire and her dad has accidentally enrolled her in witch school. She's thrown in at the deep end - not everyone in her class gives her a warm welcome and it's really as much about her finding her place and friends as it is about her learning to do magic and the mayhem of the Halloween Ball!
Flying High picks up where book one ends with the witches all very excited about the Grand Tournament with its broom races and displays, but things don't quite turn out as expected… And poor old Bea doesn't just have to worry about the most stressful sports day EVER; her friendship with her best non-witchy friend, Ash, is in trouble!

5. Why did you decide to give Bea a frog as a friend?
We'd always planned to have class frogs and we thought it would be nice for Bea to be appointed frog monitor on her first day. But after that, the relationship between her and Stan just took on a life of its own! He's one of our favourite characters now and we can't imagine the stories without him.

6. What is your favourite moment in the latest story?
Tricky … maybe the snowball fight with the students from the Academy which kicks off when Stan lands in an ice cream sundae? Or maybe when 'Egg' hatches at the very end? (We grew very fond of Egg!)

7. Why did you feel it was time for the young witches and 'ordinary' children to get to know each other better in Flying High? And what would you like them to learn from the experience?
It's important that the witches are proud of their 'unusual' skills (especially with all the hard work they're putting in to learn them - witchiness isn't some elite inherited trait in our series) but we didn't want them to be scornful or mean to children that weren't witches. They should respect other skills that non-witches are learning too. As Ms Sparks would say, "there are more ways to get to the moon than on a broom".


8. How would you have enjoyed The School of Extraordinary Arts / 'Witch School'?
H: I'd have loved to have gone there (v. good uniform, great cakes, frogs and potion classes) BUT I would have hated the spiders.
P: I'd have liked Madam Binx's rhyming charm classes and Excalibur the miniature pig the best and my worst class (like Winnie) would have been P.E.

9. What spell from 'Witch School' would you like to bring home with you?
P: A tidying spell *sigh*
H: Well … love potions make an entry in book 4 so I've got to go with that!

10. What else have you got planned for Bea and her friends?
We're sending them all off on a school trip in book 3 - that's coming out in September this year and we've just finished the first draft of book 4. So lots more mayhem to look forward to.

11. What keeps you at your writing - the breaks? the plotting? or the snacks??
Partly that we've promised our publishers we'll deliver the books! But it's not just that - they're fun to write and it's so motivating to hear that readers are enjoying them and connecting with the characters (including Stan and the other creatures of course). That's not to say that some days/weeks the writing process isn't painful but it's worth it.
* also yes, snacks.

12. What do you enjoy doing when you're not at your desks?
P: Like most authors we're both juggling other work/projects with writing the children's books so it's been busy. And I know this won't come as a surprise but I can't think of anything nicer to do with downtime than read.
H: I'm doing a doctorate in Ancient History and have a biography of the Empress Messalina coming out next year so writing children's books as well feels like such a lovely change and a privilege. When I'm not writing or studying, I like socialising with my friends.
Thank you so much Reading Zone for the brilliant questions!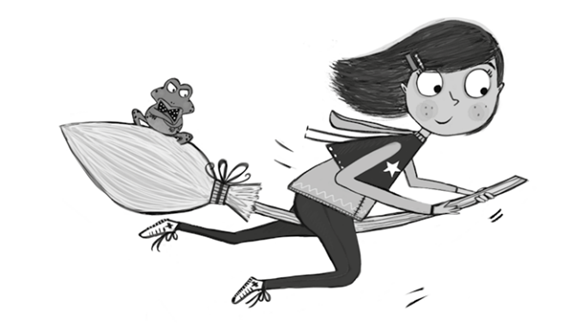 Author's Titles