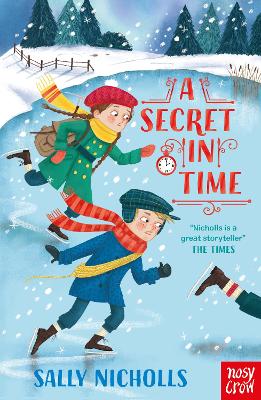 By Author / Illustrator
Sally Nicholls, Rachael Dean
Genre
Historical Fiction
Age range(s)
7+
Publisher
Nosy Crow Ltd
ISBN
9780857639141
Format
Paperback / softback
Published
07-10-2021
Synopsis
Alex and Ruby are back in their FOURTH time-slip adventure, tumbling back into 1947! From multi-award-winning author Sally Nicholls comes another brilliant action-packed adventure for 7+ readers, beautifully illustrated by Rachael Dean.
When siblings Alex and Ruby tumble back through the mirror, they find themselves in the freezing-cold winter of 1947.  Food is scarce in the aftermath of the Second World War and life at Applecott House is hard. As Alex and Ruby discover they must solve the mystery of a missing family heirloom to ever have hopes of returning home, their adventure takes them trekking across the snow and treacherous ice on a perilous treasure hunt.  Will they make it home and back to the present day or will they be stuck in 1947?
Full of action and humour and featuring exciting black-and-white illustrations throughout, this is another superb time-slip story which brilliantly brings history to life as part of an adventure.
Have you read Alex and Ruby's other adventures: A Chase in Time, A Christmas in Time, An Escape in Time?  Cover illustration by Isabelle Follath.
Q&A with author Sally Nicholls
Reviews
Ellen
A Secret in Time is a high-stakes, wintry story that takes us back in time to 1947 and an intriguing glimpse into life at that time, as well as a high stakes adventure for siblings Alex and Ruby, with life-threatening dangers and a reputation to save.
When Alex and Ruby step through the magical mirror in their aunt's house, the siblings discover that the post-war years were full of deprivation, and cold, with spam still very much on the menu and clothes and toys sparse. This time, their task is to save the reputation of the children's father, who has been accused of theft. Can they solve the mystery of the missing locket and return to their own time?
Sally Nicholls's 'In Time' series gives the reader a glimpse of everyday life in previous generations, but seeing it through the eyes of contemporary children gives the reader a real sense of what life must have been like then - the cold, the difference in food and what children would have worn, as well as a mystery and adventure story wrapped into the historical details. I feel I've got a fresh look at these different eras through the series and learned a lot about the historical detail, as well as being reminded that children then faced many of the same challenges as children today.
This is a great series to have on library shelves for children to dip into different times in history where they will enjoy a great adventure, with mysteries to solve, too. 
See also A Chase in Time; An Escape in Time; and A Christmas in Time.
208 pages / Reviewed by Ellen Green
Suggested Reading Age 7+
Natalie J.
A Secret in Time is the fourth title in Nicholls' chapter-book series about a time-travelling brother and sister who are able to jump into the antique mirror in their aunt's grand home of Applecott House and transport to other existences of their family's residence throughout the ages. After previously visiting Regency, Victorian, and Edwardian eras this instalment finds them struggling to survive the harsh winter of 1947. 
As they meet their ancestors who inhabit the family seat during this time, (it's actually the year their aunt was born), they find themselves caught up in a mystery to discover the whereabouts of long-lost treasure and in a dangerous life-threatening adventure to recover it. As they initially notice the similarities and differences between this version of the house and their other encounters of it, they experience for themselves the hardship that continued rationing brings and the austerity and deprivation of recent post-war England - in particular the lack of heating and new warm clothes.
I really liked the way historical details were mentioned as part of the story's narrative, for example some soldiers had still not come home from the war in 1947. These little snippets of detail don't break the story up and feel like dry teaching points but instead move the story on and instil a sense of empathy for the characters.
The idea of an old piece of furniture acting as a portal to other incarnations of the family and property is a lovely idea, one very reminiscent of Phillipa Pearce, C S. Lewis, or E. Nesbit, but for me, disappointingly, it lacks the same quality; for example, some elements like some of the imagery just didn't work. However, it is a welcome addition to the timeslip genre and a lovely mystery adventure fantasy story.
208Pages/Reviewed by Natalie J. McChrystal Plimmer
Suggested Reading Age 7+
Lucy
A Secret in Time is a nice book for early readers who are gaining their stamina with reading! This story follows the adventures of Alex and Ruby as they begin an epic adventure after looking through their aunt's mirror. Suddenly they find themselves back in 1947, fighting through a very cold, harsh winter filled with ice and snow. As the pair navigate the winter wonderland, they come across plenty of challenges to tackle together!
This chapter book provides a good opportunity for younger readers to begin to challenge themselves with a wider variety of vocabulary and to build their reading stamina by reading slightly longer texts. The chapters are well written, the pages are not overwhelmed with text and the text is kept relatively large. There's also the occasional illustration to keep their interest and imagination going. A well written adventure story!
208 pages / Reviewed by Lucy Newton, teacher
Suggested Reading Age 7+
Other titles