Cookie! (Book 3): Cookie and the Most Mysterious Mystery in the World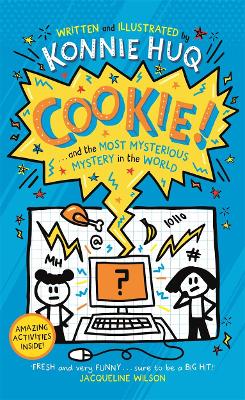 By Author / Illustrator
Konnie Huq
Genre
Humour
Age range(s)
7+
Publisher
Piccadilly Press
ISBN
9781848129894
Format
Hardback
Published
02-09-2021
Synopsis
In her third adventure, Cookie finds mysteries everywhere - but can she solve them, and save the science show? Hurray, Cookie's Nani is coming to stay from Bangladesh! But she doesn't speak English and Cookie is the only one in the family who doesn't speak Bengali. Luckily, science-mad Cookie realises that her coding lessons at school might help her crack the language code and help her bond with Nani. Other mysteries are harder to solve, though - like, why is Jake's mum acting so weird? Who is the mystery gamer who keeps levelling-up in Cookie's computer game? And who is the Woodburn Hacker, who keeps posting teachers' secrets on the school website? Why does it look like it might be Cookie herself? Can Cookie solve these mysteries, clear her name and save the science show?
Read a Q&A with author Konnie Huq
Reviews
Hayley
Cookie and the Most Mysterious Mystery in the World is the third instalment of the hilarious series by Konnie Huq. This book is full of mysteries waiting to be solved by Cookie and her friends, who seem to be connected to all of them. Through the character of Cookie, Konnie Huq is able to capture the essence of a child-like mind with all its endearing spirit and quirky outtakes.
At the beginning of the book, Cookie learns that her Nani is coming to visit from Bangladesh and although she cannot wait to see her; she is a little bit apprehensive because she doesn't know how to speak Bengali. Cookie also has a mystery to solve after catching Jake's mom getting out of a mysterious car very late at night.
Meanwhile, at school, Cookie is learning about coding and everybody is excited for the annual science show that Mrs Chen organises. That is until someone hacks the school website which then threatens to end to the science show because Mr Hastings is so mad. Cookie is determined to find the hacker so that the science show can go ahead. As the mysteries keep developing Cookie finds another one when she plays her computer. There is a mystery gamer who keeps beating her high scores, and suddenly Cookie's life is full of mystery and madness!
I genuinely loved reading this book, it is funny, realistic and definitely written from a child-like perspective. The comic-style illustrations are hilarious and really add to the whole text as you are reading. I would really recommend this book as an alternative read to graphic novels for Lower Key Stage 2 and upwards. The style of the writing is easy and accessible making it enjoyable to read.
261 pages / Reviewed by Hayley Summerfield, teacher
Suggested Reading Age 7+
Other titles