Dragon Storm: Cara and Silverthief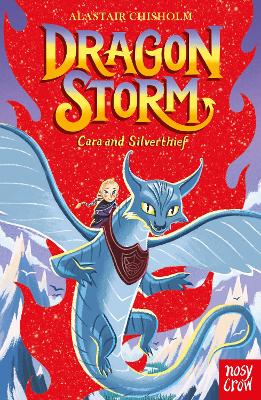 By Author / Illustrator
Alastair Chisholm, Eric Deschamps, Ben Mantle
Genre
Fantasy
Age range(s)
7+
Publisher
Nosy Crow Ltd
ISBN
9781839940064
Format
Paperback / softback
Published
13-01-2022
Synopsis
The second book in a thrilling, magical, and action-packed new fantasy series, illustrated throughout and perfect for 7 - 9 year olds!
In the land of Draconis, there are no dragons.  Once, there were. Once, humans and dragons were friends, and created the great city of Rivven together.  But then came the Dragon Storm, and the dragons retreated from the world of humans.  To the men and women of Draconis, they became legends and myth. 
Cara has spent her life on the streets, relying on her wits - and a mysterious voice that seemed to live inside her head - for survival. She's amazed when she learns that the voice actually belongs to a dragon - her dragon - and she's invited to join a hidden society, the Dragonseer Guild, for those who can summon their own dragon.  But Cara isn't used to having friends, and so when she and her dragon Silverthief uncover a dangerous secret, they must decide who they can trust... and their lives will depend on it.
An exciting new fantasy series from the highly acclaimed author of Orion Lost, brilliantly illustrated throughout, and perfect for fans of Beast Quest and How to Train your Dragon.
Video & Q&A with author Alastair Chisholm   Dragon Storm Book 1 - Tomás and Ironskin
Reviews
Catherine
I recently read Dragon Storm: Tomas and Ironskin and really enjoyed it so I was interested to see what Dragon Storm: Cara and Silverthief would be like. I was concerned that perhaps they would be all the same. But I have to say, this did not disappoint.
The characters are very different from the characters in the previous book. Cara and Silverthief are introduced to Tomas and Ironskin who become a small part of the story, which is nice. The story introduces us to Cara who has lived on the streets all her life and had to fend for herself. There has always been a special, friendly voice in her head which has guided her throughout life, but it's only when she gets summoned to the Dragonseer Guild that she realises the voice is her very own dragon! The relationship between Cara and Silverthief is strong and they are extremely close. They find it difficult to trust anyone else and have to learn how to also trust others and become their friends.
This book is a lot more exciting than the previous one I read and I was hooked from the first chapter. This is a perfect book for those who are just beginning to become independent readers. It is also good because you don't have to read the previous book to understand what is going on in this one.
160 pages / Reviewed by Catherine Kus, teacher
Suggested Reading Age 7+
Other titles