Genie and Teeny: Make a Wish (Genie and Teeny, Book 1)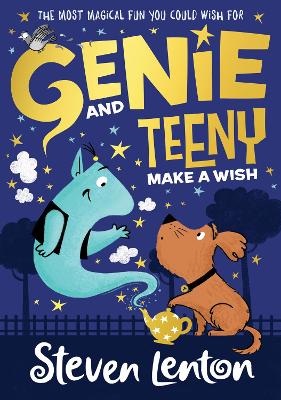 By Author / Illustrator
Steven Lenton
Genre
Funny Stories
Age range(s)
5+
Publisher
HarperCollins Publishers
ISBN
9780008408206
Format
Paperback / softback
Published
29-04-2021
Synopsis
Meet Grant the genie, and his best friend - the puppy Teeny...  The first in a series of magical adventures from the renowned illustrator, Steven Lenton, winner of Waterstones Picture Book of the Month and the Times Children's Book of the Week.
When Grant the Genie is cast out of Genie World, he lands on Earth with a big, fat bump! Without a lamp to call home, he has to settle for an old cracked teapot instead.  Grant is very lonely until he meets the puppy, Teeny. Then Genie and Teeny are kidnapped by the evil purple-loving Lavinia Lavender, and find themselves on-course for a rollercoaster of an adventure - when all they really want is a place to call home...
Reviews
Jacqueline
Grant is a genie; not a particularly good genie either - he often mishears the wishes and creates havoc. One day he mishears the Queen and ends up being banished from the world of genies. Grant ends up in the real world and moves into a teapot and meets Teeny, a dog. Through a series of misadventures, Grant and Teeny become friends. They meet a purple loving villain called Lavinia Lavender and find themselves kidnapped. Grant still does some spectacularly wrong wish granting but of course everything turns out for the best.
This book is absolutely perfect for the younger reader just starting out on their reading journey. It is short enough to manage as well as being heavily illustrated; Steve Lenton is both author and illustrator of this book. The pictures are wonderful and zany, as is the story, and the pages are full of movement and excitement. Grant's spells will ensure much laughter and there are many jokes; both lavatory humour (always popular) and the downright silly. In short, this book is a lot of fun (it even says so on the cover) as well as witty and with an entertaining storyline.
I can imagine this book would be enjoyable to read aloud, as well as for independent reading and it does not shy away from using a good level of vocabulary as well as never talking down to children.
160 pages / Reviewed by Jacqueline Harris, teacher
Suggested Reading Age 5+
Other titles