Genie and Teeny: Wish Upon A Star (Genie and Teeny, Book 4)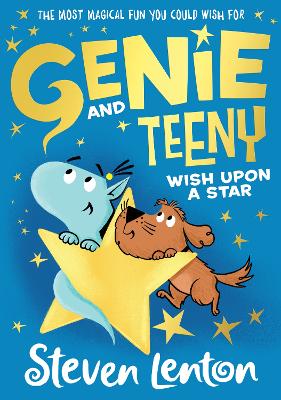 By Author / Illustrator
Steven Lenton
Genre
Fantasy
Age range(s)
5+
Publisher
HarperCollins Publishers
ISBN
9780008408589
Format
Paperback / softback
Published
22-06-2023
Synopsis
Meet Grant the genie, and his best friend - the puppy, Teeny...  The fourth in a series of magical adventures from the renowned illustrator Steven Lenton, winner of Waterstones Picture Book of the Month and The Times Children's Book of the Week.
Back home, in the land of Wishaluzia, Grant is enjoying his old life. But when trouble strikes he realises he'll need a helping hand. Can Teeny lend a paw and save the day? Or will it be the end of Genie Land forever...?
Find out more from author and illustrator, Steven Lenton
See also: Genie and Teeny: Make a Wish (Book 1);   Genie and Teeny: Wishful Thinking (Book 2);  Genie and Teeny: The Wishing Well (Book 3)
Reviews
Amanda
Genie and Teeny: Wish Upon A Star is the fourth in the hilarious Genie and Teeny series and it does not disappoint. Although it leads on from the previous books, it works equally well as a standalone book.
Grant the genie has finally managed to return to Wishaluzia, only to find that he is not allowed out of his lamp due to a past mistake. He is desperate to make a plan which will enable him to stay at home forever without worrying about the guards, but as usual, trouble soon comes. In this story it is in the form of an enormous cat-beast. Knowing that he needs help, who can Grant turn to? Of course he turns to his best friend in the whole world, Teeny!
Children will love word choices like: poodle-parp-a-pipsqueak and alaka-blaw-a-bumwhistle as well as the fact that the genies all burp after they have eaten! Steven Lenton has clearly spent a lot of time working with children, discovering what they would choose to read, what makes them laugh and what keeps them engaged with a story as all of these things are evident throughout.
This whole series will have a huge impact in developing the love of reading with the early chapter book reader and is going to be a firm favourite in the classroom for years to come. It could be used as a guided reading focus text, class book or individual reader. Used in any of these ways it will help children to develop their imaginative and descriptive language in their own writing and generate some wonderful discussions.
160 pages / Reviewed by Amanda Shipton, teacher
Suggested Reading Age 5+
Jacqueline
Grant the Genie is back in another adventure in the series. This time, Grant is in hiding with his family because the Queen has banished him from Wishaluzia for accidentally turning her into a snake. Then the genie kingdom is threatened by a huge fire-breathing cat monster and the only one who can save the entire country is Gant, enlisting help from his family and Teeny the dog from Earth.
Full of the sort of humour young children love, including farts and clever plays on words, this is an easy read for children just beginning to read independently. It would also make a fun read aloud book; I had the voices all worked out in my head as I was reading. The Queen was a particularly fun one to try out.
The text is full of fun, with words jumping off the page as well as the drawings bringing it all to life. I loved the drawing lesson at the back of the book which shows you how to draw Queen Mizelda, and my daughter, though she considers herself rather too old for the book, instantly pounced upon it to try it out. Whilst part of a series, though it would be helpful to have read the previous books, this can stand up by itself as everything that happened in the other stories is explained. I would however suspect that there are many children after reading this book, that will go away to find the other books in the series, having laughed their way through it!
160 pages / Reviewed by Jacqueline Harris, teacher
Suggested Reading Age 5+
Other titles