How to Be a Footballer and Other Sports Jobs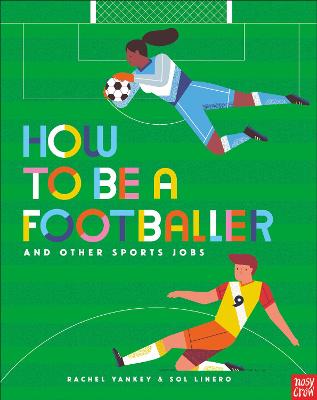 By Author / Illustrator
Sol Linero, Rachel Yankey
Genre
Non Fiction
Age range(s)
7+
Publisher
Nosy Crow Ltd
ISBN
9781788006965
Format
Paperback / softback
Published
06-05-2021
Synopsis
A book for children aged 6+ who want to know the score about football jobs, written by former Arsenal and England footballer and CBeebies TV presenter Rachel Yankey. Do you have what it takes to become a professional footballer, a manager or even to work in sports TV? Learn all about football and the incredible sports jobs you could do, from training to become a player or team coach to running the game as a referee, scouting young players for talent or even working inside the stadium. This book will inspire any girl or boy who wants to kick start their interest in playing football. Other titles in the series include: How to be an Astronaut and other Space Jobs and How to be a Vet and other Animal Jobs
Reviews
Kyle
How to Be a Footballer is the definitive guide to the world's number one sport…football. This nonfiction text covers every aspect of the beautiful game in an engaging, informative and accessible manner. Guided by questions, each double page spread provides the answers needed through the use of clear text and vibrant illustrations.
The text has a perfect mix of accurate information and interesting facts which ensures readers are fully informed of the important aspects but also are equipped with some trivia to impress other football fans. Using the expertise of Rachel Yankey (former England international player) was a masterstroke as it allowed for a pure knowledge to be shared by someone who has been there, done that and worn the t-shirt. The way she has explained each question in detail is perfect for the audience and being an ex-professional of the women's game, acts a true inspiration for younger children.
Rachel's words provide the knowledge but the illustrations of Sol Linero help deliver the message with clarity. Readers are able to see demonstrations of the rules and make firmer connections to the information shared. The pictures are vibrant, eye catching and engaging and because there is no set chronology to the book, you find yourself exploring the book and letting your curiosity take the lead.
I can already predict that this book is going to be a massive hit with the KS2 children in my school - especially those who are already keen footballers. The combination of clear text and pictures means it will be accessible for all regardless of their reading level and I know they will spend time sharing and speaking of it. I am also looking forward to sharing this text with my own son when he is slightly older and wants to learn more about the sport we play together in the back yard.
32 pages / Reviewed by Kyle Matravers, teacher
Suggested Reading Age 7+
Other titles