I say Oh, You say No: An interactive, read-aloud story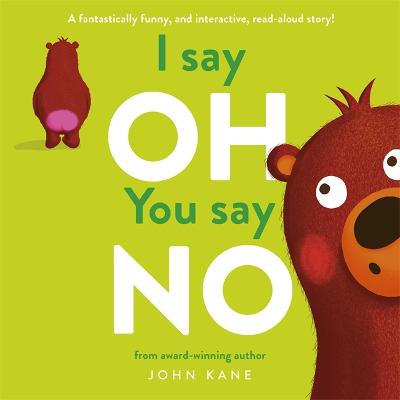 By Author / Illustrator
John Kane
Genre
Funny Stories
Age range(s)
3+
Publisher
Templar Publishing
ISBN
9781800785120
Format
Paperback / softback
Published
30-03-2023
Synopsis
Hello. Yes, YOU! I need your help.  Can you help me read this book? Fantastic - when I say OH, you say NO. Let's try it.  Would you like to meet OH?  Are you sure? He's no ordinary bear . . . you see, he's a bear with a BARE BEAR BUTT! And bare butt bears like to dance. The trouble is, he'd like someone to dance with. I don't suppose you know anyone?
Read the third book in the fantastically funny, award-winning 'I say, You say' series - perfect for sharing with individual children as well as groups big and small. The reader must help tell the story through hilarious verbal and visual cues. Get ready for the best storytime yet!
Be sure to check out other books by John Kane; I say Ooh, You say Aah, I say Boo, You say Hoo and This Book is Pants.
Find out more from author John Kane
Reviews
Nicola
I say Oh, You say No is very funny and engaging for both young children and the adults reading it. The front cover is very appealing to young children with the marvellous colourful illustrations.  I love the way it gets you involved by asking you to repeat words in the story. I can see this book becoming a favourite amongst the young children as its so funny and very interactive.
The book has very large print so a young child at reading age will be able to read this book with help from an adult. It's about a bear with a bare bottom; so,so funny! Children will find this absolutely hilarious. It has lots of colourful illustrations that fill the pages, which children will find very appealing, along with the clever wording and lots of interaction; this book will be a sure favourite. It's a lovely book to keep on the bookshelf. I am sure lots of young children will love it.
Picture book / Reviewed by Nicola Barton
Suggested Reading Age 3+
Other titles