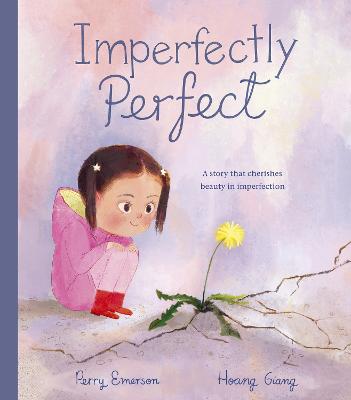 By Author / Illustrator
Perry Emerson, Hoang Giang
Genre
Mental Health & Wellbeing
Age range(s)
5+
Publisher
Little Tiger Press Group
ISBN
9781801044981
Format
Hardback
Published
07-09-2023
Synopsis
A thought-provoking picture book inspired by the idea that there is beauty to be cherished in imperfection.
What is imperfectly perfect?
It's a flower growing from a cracked pavement.
It's the memory of a happy time, etched in a wrinkled smile.
It's taking something broken, mending it with love,
and making something new. Something unique.
Beautiful. And imperfectly perfect.
A story that cherishes beauty in imperfection.
With a lyrical, meditative text from Perry Emerson and stunning illustrations from the wonderful Hoang Giang (The Christmas Department Store) this book explores what it means to be perfect through the eyes of a little girl at a tumultuous time in her relationship with her older brother. With a powerful message that lingers beyond the final page, Imperfectly Perfect encourages readers to embrace imperfection, whether in physical objects or in a more metaphorical way, as part of the unique beauty of the world around us.
This uplifting picture book is the ideal companion for readers of The Most Magnificent Thing by Ashley Spires, What Do You See When You Look at a Tree? by Emma Carlisles and The Station Cat by Stephen Hogtun.
Reviews
Maria
Imperfectly Perfect explores an important theme that not every thing is perfect and sometimes accidents happen, but objects can be repaired - just like friendships.
Maria loves reading and unfortunately damages her brother's favourite book. Robbie returns and shouts at Maria who becomes upset and worried about the book and her friendship with her brother. Maria seeks out her grandmother Bea who shows her a bowl which Maria's mum had broken when she was a child. The bowl had been mended with golden glue and was now "imperfectly perfect."  Wise Bea and Maria explore the local area, finding lots of imperfectly perfect examples, which help Maria understand that precious things can be mended, with love.
A beautiful book with an important message that favourite things can be mended, and friendships, too. This book was shared with 6-7 year olds who loved the story and the message. The illustrations help to tell the story and the book has beautiful end papers too!
Suggested Reading Age 5+
Other titles