Inspiring Inventors Who Are Changing Our Future: People Power series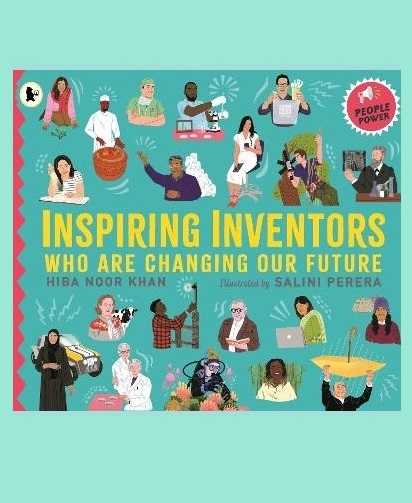 By Author / Illustrator
Hiba Noor Khan, illus Salini Perera
Genre
Non Fiction
Age range(s)
7+
Publisher
Walker Books Ltd
ISBN
9781529515121
Format
Paperback / softback
Published
07-09-2023
Synopsis
Discover the stories of 20 extraordinary inventors, who are changing our future for the better.

Learn about 20 inspiring inventors and innovators from 20 different countries, all working to make the world a better place, as well as the amazing people who paved their way. Physics teacher Hiba Noor Khan goes above and beyond to celebrate hidden figures from around the globe - all of whom are fantastically brought to life in Salini Perera's bright, brilliant pictures. An inclusive, joyful and uplifting celebration of all things STEM!

Scientists featured: Gloria Asare; Mohammed Bah Abba; Emma Camp; Marita Cheng; Rene Favaloro; Brian Gitta; Pearl Kendrick and Grace Eldering; Kevin Kumala; Ann Makosinski; Reem Al Marzouqi; Makoto Murase; Wilhelm Roentgen; Sara Saeed; Abeer Seikaly; Joshua Silver; Temple Grandin; Sarah Toumi; Richard Turere; Sonam Wangchuk; Topher White... with bonus appearances by 40 more amazing inventors, including Louis Braille, Jane Goodall, Florence Nightingale, Marie Curie, Maria Telkes, George Washington Carver, Louis Pasteur, Yacouba Sawadogo, Leonardo da Vinci, Albert Einstein and Henri Becquerel.
See also in the People Power series:  Amazing Activists;  Caring Conservationists
Find out more from Hiba Noor Khan in our ReadingZone Q&A
Reviews
Stephen
Inspiring Inventors Who Are Changing Our Future gives a fascinating insight into inventors and their inventions that are having an impact on millions of lives throughout the world today. Many were unknown to me - both inventor and invention - and that's what made this a really exciting book to explore. From a foot-controlled car and a hug machine, to self-adjusting glasses and a cooling pot, these inventions have been developed by people with a desire to help those around them, and the selection is incredibly varied with inventors highlighted from diverse backgrounds, too.
Each of the 20 inventor gets a double page spread explaining who they are and their inspiration for their invention. There's also a 'How it Works' diagram showing in three to four pictures how the invention works. Some pages feature key words with definitions along with 'did you know' and other fact boxes, giving further information or background to the invention.  Each inventor page also features a 'Great Minds' section, highlighting other scientists and inventors who link in with the invention being discussed.
What I liked was that there was just enough information presented to capture my interest and make me want to find out more about these people and their inventions! I also enjoyed finding out about the reasons they had for developing their invention, which were often very personal or local reasons. The illustrations are excellent as is the layout and text, making this a very engaging and accessible book; young people can read this cover to cover or use it as a book to dip in to.
At the end of the book there is also a section offering young readers 'top tips' on how to become a top inventor. This would make a great book in a class for encouraging further research into these inventions and inventors, but also for showing young people where inspiration comes from for inventing, and the difference even small things can make to people's lives and the environment. It's a great STEM-related book, vibrant and exciting to read, and would work well with middle and upper primary school aged children. Recommended.
48 pages / Reviewed by Stephen Leitch, school librarian
Suggested Reading Age 7+
Sue
In this fascinating book, the reader discovers the stories of twenty extraordinary inventors from across the world. Coming from very different backgrounds and locations, each of the people featured has seen a need, identified the problem and set about finding a solution, using their skill to make things easier for others.
Each double spread not only features an inventor, carefully explaining how their invention works as well as the story behind it, but also offers snapshots of two additional 'Great Minds' and contributions they have made in a similar area. The text is well written and accessible, with additional facts and key words included to support the reader's understanding of the invention and its benefits. Colourful, engaging illustrations support the information on every page, adding to the book's appeal.
Inspiring Inventors Who Are Changing Our Future would make an invaluable resource for teachers, supporting and adding additional interest and diversity to other many areas of the curriculum as well as inspiring children to think about the world around them and seek to find creative solutions for problems in an ethical, sustainable way.
48 pages / Reviewed by Sue Wilsher, teacher
Suggested Reading Age 7+
Other titles