Leonardo da Vinci's Life of Invention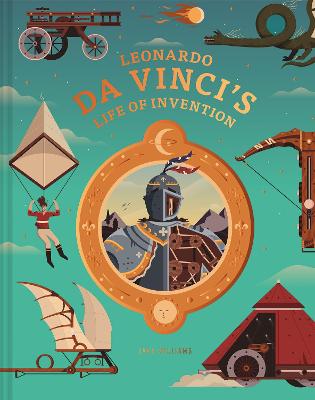 By Author / Illustrator
Jake Williams
Genre
Non Fiction
Age range(s)
7+
Publisher
HarperCollins Publishers
ISBN
9781843654988
Format
Hardback
Published
17-02-2022
Synopsis
The award-winning author and illustrator behind Darwin's Voyage of Discovery and Really Remarkable Reptiles turns his attention to the Renaissance man: Leonardo da Vinci.
Leonardo da Vinci was a master of art, architecture, engineering, mathematics and more. Discover his relationship with the natural world, his futuristic inventions and the breadth of his artistic skill in this spellbinding celebration of his genius.  Follow his early years - born to a poor mother and receiving no formal education, it is amazing that an innate fire of curiosity and imagination fuelled this man to achieve extraordinary success and a place amongst history's elite. Learn about his legacy today - the bewitching power of the world's most famous portrait, the Mona Lisa - as well as the influence of his inventions in modern daily life.   This gorgeous hardback is filled with Jake Williams' characteristically stylish illustrations.
Reviews
Sharon
Leonardo Da Vinci's Life of Invention is the third in the award winning series of non-fiction books by Jake Williams and I can see why. Not only is the information in the book accessible for children reading the book, but the double page spreads are so beautifully illustrated too. Many of the children in my class knew Da Vinci as an artist, but they were blown away by his inventions.
Many of the inventions described in this wonderful book are linked to flight, making it a great book to share within the topic of 'flight' or 'forces' in a primary school setting. As one child said "it looks like Leonardo was a bit of a genius - look at his helicopter and flying bat machine!"
I would strongly recommend this book for every primary school library and art/DT (design technology) leaders should also take a look at it. It is jam-packed full of interesting and surprising facts for every key stage 2 setting.
96 pages / Reviewed by Sharon Porter, teacher
Suggested Reading Age 7+
Other titles