National Trust: 2023 Nature Month-By-Month: A Children's Almanac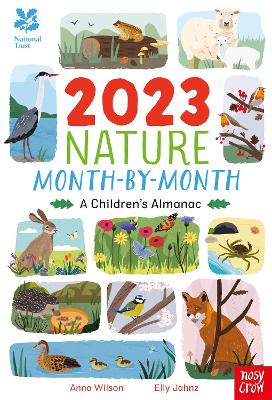 By Author / Illustrator
Anna Wilson, illus Elly Jahnz
Genre
Environment
Age range(s)
7+
Publisher
Nosy Crow Ltd
ISBN
9781839945380
Format
Hardback
Published
06-10-2022
Synopsis
Take an inspirational journey through the seasons with this updated edition of Nature Month-by-Month: A Children's Almanac.  Beautifully illustrated by Elly Jahnz and written by nature-lover and wild swimmer Anna Wilson, this fantastic, fully illustrated guide to 2023 includes nature spotter guides, indoor and outdoor craft and activity ideas, seasonal recipes and celebrations of religious festivals and special events.
A wonderful gift to treasure and explore over the coming year, this gorgeous almanac, which has been updated with one third new material and revised design throughout, will encourage young readers to connect with nature and the world around them.
Reviews
Sharon
2023 Nature Month-by-month: A Children's Almanac, published with the National Trust, beautifully illustrates the passing of time with fascinating facts and detailed drawings. It is one of those books that the children wanted to return to again and again, even looking up their birthday months (and family members' birth months) to see what was happening in that part of the year.
Each month has a selection of special days, anniversaries, festivals, recipes, lists, things to make and find in the environment. It would also be great to have on one of those wet autumn or winter evenings to keep a child off their devices and busy creating something. There is something for everyone in this book, for throughout the year.
Highly recommended to build children's knowledge of the natural world around them in a fun way. J aged nine loved the instructions on how to make an Autumn Forest Globe. S aged nine wanted to make the veggie sausage rolls with her gran for her family. A fact-filled interesting book to build the knowledge about nature of any group of children. My class loved it and I know it will continue to be a great favourite throughout the year.
192 pages / Reviewed by Sharon Porter, teacher
Suggested Reading Age 7+
Amanda
Discover all the brilliant things that you can see, make and do with this amazing month by month guide to the year. Published in collaboration with the National Trust, 2023 Nature Month-By-Month: A Children's Almanac is packed with nature spotter guides; exciting indoor and outdoor craft and activity ideas; celebrations of festivals and special days; tips for budding gardeners and tasty seasonal recipes.
This is the perfect book to help families to explore and entertain all year round. This must-have family guide to the year ahead is everything you could wish for packed in a handy sized book which will pack neatly into you bag to go out for the day.  It is carefully written to be accessible for all members of the family through the detailed illustrations, layout and carefully chosen words.
This is a beautiful book which encourages the reader to try new things and share it with others. It is hard to ask for anything more. Well done Anna and Elly.
192 pages /  Reviewed by Amanda Shipton, teacher
Suggested Reading Age 5+
Other titles