Nibbles: The Bedtime Book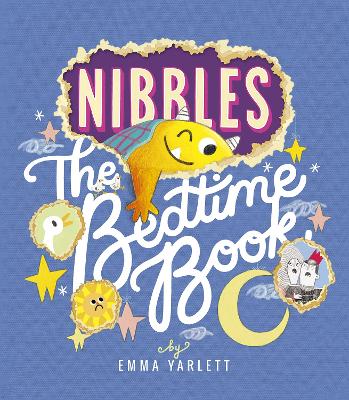 By Author / Illustrator
Emma Yarlett
Genre
Fairy Tales & Folk Tales
Age range(s)
3+
Publisher
Little Tiger Press Group
ISBN
9781801042949
Format
Paperback / softback
Published
07-09-2023
Synopsis
This wonderful new instalment of the internationally best-selling series by Emma Yarlett is packed with die-cuts, flaps and lots of fairy tale fun!
It's bedtime, but where's Nibbles? Instead of counting sheep, Nibbles is munching through bedtime stories. He's making a splash in The Ugly Duckling and stealing the spotlight from Cinderella. Come back Nibbles! It's time all little monsters were tucked up snug in bed.
This brilliant bedtime book with a cheeky, lovable monster will send little ones to sleep with wonderful dreams. Just like Rhiannon Fielding and Chris Chatterton's popular Ten Minutes to Bed series, Caroline Crowe and Tom Knight's Pirates in Pyjamas and Ian Whybrow and Axel Scheffler's The Bedtime Bear, Nibbles: The Bedtime Book is the perfect sleepy-time read.
Also available: Nibbles: The Book Monster, Nibbles: The Monster Hunt, Nibbles: The Dinosaur Guide, Nibbles Colours, Nibbles Numbers, Nibbles Christmas, Nibbles Shapes
Reviews
Lucy
A book filled with flaps to open and holes to peep through - what's not to love?! Nibbles: The Bedtime Book is another brilliant book from Emily Yarlett following the adventures of Nibbles. This time, Nibbles is making his way through lots of our favourite stories including Cinderella and Twinkle, Twinkle, Little Star.
A brilliant way to introduce a couple of traditional tales and nursery rhymes to little readers through the excitement of Nibbles and his adventures. As previously mentioned, the book has plenty of parts to encourage audience participation including flaps to open, holes to peep through and hidden pictures to find Nibbles on.
It's written using short and snappy language, as well as including some parts with rhyming words which is always a big hit in my experience. The story ends with you tucking Nibbles into bed, which is a great way to end the bedtime routine with small ones at home.
A lovely bedtime story book to enjoy with children of all ages before they drift off to sleep and escape into wonderful dreams and stories of their own.
20 pages / Reviewed by Lucy Newton, teacher
Suggested Reading Age 3+
Other titles