Pages & Co.: Tilly and the Bookwanderers (Pages & Co., Book 1)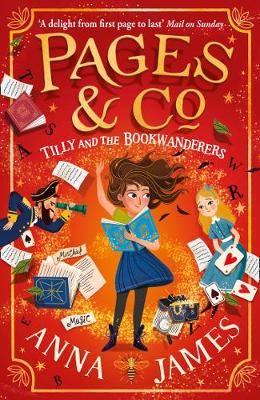 By Author / Illustrator
Anna James
Genre
Fantasy
Age range(s)
9+
Publisher
HarperCollins Publishers
ISBN
9780008229870
Format
Paperback / softback
Published
27-06-2019
Synopsis
A magical adventure to delight the imagination. A curl-up-on-the-sofa snuggle of a debut from a uniquely talented author.
Eleven year-old Tilly has lived above her grandparents' bookshop ever since her mother disappeared shortly after she was born. Like the rest of her family, Tilly loves nothing more than to escape into the pages of her favourite stories.  One day Tilly realises that classic children's characters are appearing in the shop through the magic of 'book wandering' - crossing over from the page into real life.  With the help of Anne of Green Gables and Alice in Wonderland. Tilly is determined to solve the mystery of what happened to her mother all those years ago, so she bravely steps into the unknown, unsure of what adventure lies ahead and what dangers she may face.
Also available: Tilly and the Lost Fairy Tales (Pages & Co., Book 2);  Tilly and the Map of Stories (Pages & Co, Book 3); The Book Smugglers (Pages & Co, Book 4); The Treehouse Library (Pages & Co, Book 5)
Reviews
Lucy
Since her mother mysteriously disappeared when she was a baby, Tilly has been raised by her grandparents in their homely rambling bookshop, Pages and Co. Tilly can often be found curled up with a book and counts Anne Shirley and Alice as dear friends.  One wet half term, strange things start to happen: the reader may recognise the characters who appear as Tilly gradually discovers she is a 'bookwanderer - someone who has the ability to actually travel inside a story. But as she and her friend Oskar begin to be inducted into this new and exciting world, learning the rules and how to's of book wandering, mysteries begin to unfold. As she travels into exciting new realms, Tilly finds out more about herself than she ever knew, and unravels the true identity of the suspicious Enoch Chalk.

A little slow to get started, the pace picks up as Tilly learns to bookwander, and the reader will be gripped by Tilly's adventures and the whole concept of 'bookwandering'. A well-read individual will delight in spotting familiar friends as they appear but even those who haven't read Tilly's favourite books will be gripped as she delves deeper into the mystery of her mother's disappearance and her own identity.

Jones's prose is rich and smooth, Tilly and Oskar are authentic characters and Pages and Co is the bookshop everyone longs to be in - where there are bean bags to curl up and read, and homemade cakes on constant supply!  The magic in this story begins as the sort of magic that one can believe could happen to an ordinary person on an ordinary wet half term day, although the discovery of Tilly's true identity may prove a stumbling block to some!

This debut from Anna Jones will be popular with children aged nine and above: with 377 pages and quite a complex conclusion, it's for the more confident reader.

377 pages / Reviewed by Lucy Russell, teacher.
Suggested Reading Age 9+
Lola

- Age 11
I liked this book because of the mysteries - it shows that magic doesn't just solve problems. Many people believe Tilly is just seeing things when she says she has seen Alice from Alice in Wonderland and Anne from Anne of Green Gables - then she discovers the Book Wanderers...
Suggested Reading Age 9+
Other titles