The Secret School Invasion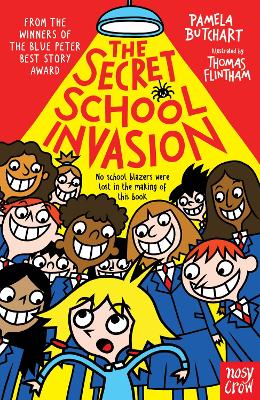 By Author / Illustrator
Pamela Butchart, illus Thomas Flintham
Genre
Funny Stories
Age range(s)
7+
Publisher
Nosy Crow Ltd
ISBN
9781839940491
Format
Paperback / softback
Published
18-08-2022
Synopsis
Hilarious, pitch-perfect stories where everyday school life becomes completely extraordinary! By a brilliant author/illustrator team with laughs on every page!
Izzy's school is being merged with St Bartholomew's Primary, their greatest rivals! What will happen when the new kids join, in their too-shiny shoes and with their too-loud singing? And what if they've got a secret mission and that mission is a BAD mission? Only Izzy and her friends can discover the truth, even if they must go SO DEEP UNDERCOVER that they might not come back...
Find out more from author Pamela Butchart!
Reviews
Sam
If you're ooking for a book to encourage reading for pleasure and build reading stamina in newly independent readers, then The Secret School Invasion by Pamela Butchart is just what the book you need. This laugh-out-loud account of the amalgamation of two rival schools will have its reader questioning the intentions of the 'shiny shoed fakers'. Just what are they planning and how are Izzy and her friends going to find out who is leading the disruption to their school days, or what is the meaning behind the secret language?
Worried that the new kids in their smart blazers and their accompanying teachers are going to take over the school, Izzy, Jodi, Maisie and Zach gather in their den to consider how they can stop their doppelgangers and arch-enemies from destroying their school. Further unfounded calls to pest control and fly pies must be prevented and above all else, Izzy and her friends need to find the stolen trophy.
Pamela Butchart's style of writing is ideal for young readers; clear text and a fast-paced storyline will allow for the reader to become completely immersed, while the highly amusing illustrations by Thomas Flintham will make this a real page turner. A great read for any LKS2 reader.
272 pages / Reviewed by Sam, teacher
Suggested Reading Age 7+
Jane
I can see why Pamela Butchart's books are so popular with our children. Her stories, with Thomas Flintham's fantastic illustrations, are full of energy and fun. Sometimes it's the sort of fun you'd wish for at your own school; sometimes the sort you're very glad happens elsewhere, to people like Izzy and her friends. After all, who wants a load of rival kids and teachers joining your school, with their creepy behaviour and fake smiles?
Izzy and her friends need lots of meetings in their secret den to work out who these newcomers really are (spies? ghosts?) and what to do about the flies, spiders and assorted problems that have accompanied their arrival. 
The Secret School Invasion is a book that will not spend much time on the library shelves, but rather will be much requested by children from as young as Year 2 upwards.
272 pages / Reviewed by Jane Rew, school librarian
Suggested Reading Age 7+
Jenny
I was thrilled to be sent another delightful school adventure featuring Izzy, Jodie, Zach and Maisie as I am a big fan of this quirky quartet. I love the dramatic escapades and heroics that always occur when they find themselves faced with yet another, quite outlandish yet utterly believable, crisis.
In The Secret School Invasion the fabulous four discover that, horrifyingly, their school is to be merged with their ARCH ENEMIES, St Balthazer. Obviously there is high excitement, shock and complete chaos from the very start of the story with an Emergency teachers-only assembly and then an unforgettable school gathering where the enemy arrives: 'But then suddenly everyone went quiet because we could all hear something. And it sounded a bit like MARCHING. Mr Graves gasped and whispered, "They're here.Save us all."  With shiny shoes, perfect blazers, huge creepy smiles and some of them looking EXACTLY like our four (by now, freaking out) friends, there are many questions to be asked and a mission to be had; investigate these Super Pupils, find out how and why they plan to take over the school - and stop them!
The Secret School Invasion is an energetic and frantically fun adventure. Pamela Butchart is brilliant at capturing the breathless, frenzied imaginations of her young characters - how extreme their sense of drama is and how hilariously excitable, full of exaggeration and hyperbole their actions and reactions are. It is an absolute joy to read; appealing text layout with capitalized, underlined and bold exclamations and those fabulous illustrations by Thomas Flintham, who adds even more fun to the riotous scenes and further livens up the pace.
Without any spoilers , the chapter 'The Not Fun Day' is a downright hysterical depiction of a very different sports day at school and is pure genius in mimicking a very current "fight to survive" genre. I loved also that even after all the books, our original quartet of kids still bring surprises about themselves to the story and their characters and relationships endear themselves to us a little more each time. This was a perfect summertime read for me - exciting escapism that left you feeling light and exuberant!
272 pages / Reviewed by Jennifer Caddick, teacher
Suggested Reading Age 7+
Other titles