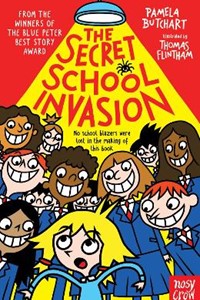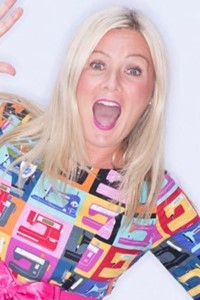 About Author
As a child, Pamela was lucky enough to grow up in a house full of pets and go to a primary school where lots of spooky and weird things happened (well, in her imagination at least). As a student, Pamela's jobs included: fishwife, teaching basketball in America, phlebotomist and Artist Liaison for a (really bad) Abba tribute band. Now, when she's not writing or going out and about meeting readers, Pamela teaches philosophy to teenagers.
Her top selling stories include The Spy Who Loved School Dinners which won the Blue Peter Best Story Award and My Head Teacher is a Vampire Rat which won The Children's Book Award. Two of her books, Petunia Peri and There's a Werewolf in My Tent, were shortlisted for the Lollies - the Laugh Out Loud Awards.
Pamela lives in Dundee with her baby boy and their two awesome cats, Bear and Carlos. If she wasn't working as a writer and a teacher she'd like to open a luxury hotel for stray cats.   Image by Chris Close
Interview
The Secret School Invasion (Baby Aliens series)  (Nosy Crow Books)
August 2022
Bestselling author Pamela Butchart tells us about her hilarious new addition to her 'Baby Aliens' series, The Secret School Invasion - look out for plagues of rats, spiders and some very creepy doppelgangers!  Pamela Butchart tells us more....
Read a chapter from The Secret School Invasion
Q&A with Pamela Butchart
1.   Can you tell us what inspired your first Baby Aliens book, and what your latest book The Secret School Invasion is about?
Izzy's voice just sort of POPPED into my head one day! I started to write down the things she was saying and within half an hour that became the first chapter of Baby Aliens Got My Teacher!  I LOVE writing about school. And I've always been a bit obsessed with ALIENS. One day I started to wonder, "If aliens exists, there must be BABY ones, right?" I started to picture teeny, tiny, pea-like baby aliens. And then (of course) decided that they needed to be in the book.
The Secret School Invasion is about a new school merging with Izzy's school. And not just ANY school…Their ARCH ENEMIES. Izzy and the gang become VERY suspicious of the new pupils and why they're REALLY here (especially when they hear their SUPER CREEPY singing voices!).

2.   What is special for you as an author about the Baby Aliens books and what brings you back to writing about these characters?
I absolutely love writing about Izzy and her friends at school. I've spent most of my life in schools and, let's face it, schools are pretty weird and wonderful places! What's most special for me about the Baby Aliens books is that there is nothing I'd rather be writing. I just love it. And getting to do what you love is a special thing. I'm very grateful.

3.   Can you tell us a little about the group of friends at the heart of this series, and what each of them brings to the stories? Do you have a soft spot for any of them?
Aww, I love Maisie! She's my favourite, I think.  Maisie is a scaredy cat with an over-protective mum. Jodi is brave and likes to be in charge. Zach is quite laid-back and has a bit of an obsessions with all things sci-fi. And Izzy's imagination gets them all into trouble!

4.   Does writing these books make you laugh? Which of their adventures to date have you most enjoyed writing?
I have been known to laugh-out-loud while writing, yes! Writing the Izzy series brings back loads of funny memories of my time at school (as a pupil and as a teacher!). I once read that if you're enjoying what your writing - and you're find it exciting or scary or funny - that there's a good chance others will too. I think that's true. (Or that's what I tell myself at least!)

5.   How many different ideas do you play around with before you decide on the children's next adventure?
I often go with my first idea. But that doesn't always work! I'm quite impulsive when I write. If I feel it isn't working, I'll put it to the side for the next book. Sometimes ideas that don't work for the Izzy series work really well as short stories and often become a Wigglesbottom Primary story, so no idea is wasted!

6.   What gave you the idea for a school 'takeover' in The Secret School Invasion?
A few years ago, my school merged with another school. It was such a strange (and hilarious!) experience for the pupils, teachers and staff to go through. I just KNEW that I had to write an Izzy book about it.

7.   Which of the fly / spider / rat invasions in this story would have creeped you out the most?
Well, not rats. I LOVE rats! Probably flies. Flying insects creep me out a bit. They're fascinating and cool to look at, but I do get a wee bit scared of them sometimes.

8.   These stories include lots of 'red herrings' where things aren't what the children think they are - what was your favourite red herring moment in this story?
The MAISIE MOMENT (I can't say much more than that without some causing a serious spoiler!).

9.   Did your own school days help give you ideas for this story or have you borrowed any from schools you have visited?
HA! Ooooooooh yes! Pretty much every book is based on something that happen to me and my friends when we were in primary school. Or based on something that happened in my school when I became a teacher. If it wasn't for the dinner ladies who served me that disgusting shepherd's pie with an ice cream scoop, these books would never have happened.

10.   What do you think of Thomas Flintham's illustrations for this book? Any favourites?
AMAZING!! That's what I think! He's a genius! Anything and everything he does with Maisie is my favourite! But my favourite-favourite is definitely the illustration he did of Juliet's cats dressed as bridesmaids at Juliet and Romeo's wedding in To Wee or Not To Wee! It's actually an illustration of MY cats - Bear and Carlos!

11.   What do you have planned next for the school chums?
There might be a basement…

12. Where and when do you prefer to write?
I usually work best very late at night (which doesn't mix well with having a toddler!). I used to write all my books in the library, but I now write my den in the garden. But… PLEASE come back and ask me that same question when the next book is being released and I will have an AWESOME SECRET to share!!
(Editor:  Can't wait to hear more!!)

13. What do you do to relax away from your writing?
1. Cuddle, play and go on adventures with my wee boy, Albie.
2. Go to the beach!
3. Read.
4. Eat cheese and watch rubbish TV
Author's Titles