The Worries: Shara and the Really Big Sleepover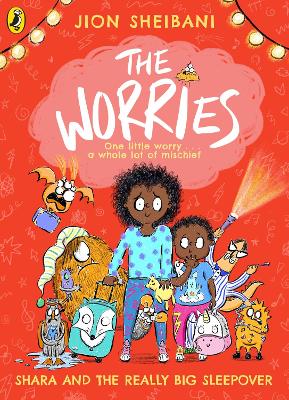 By Author / Illustrator
Jion Sheibani
Genre
Mental Health & Wellbeing
Age range(s)
5+
Publisher
Penguin Random House Children's UK
ISBN
9780241572207
Format
Paperback / softback
Published
28-07-2022
Synopsis
Everyone feels worried sometimes. But what if your worries came to life and started following you around?

Shara takes her role as a big sister VERY seriously. So when her mum goes on holiday for a few days, she starts to worry. About her mum, about her little brother Keita, about school, about staying with her granddad for the first time... it's a lot!   Just before mum is due to leave, a set of funny, furry friends arrive to try and help. The Worries are back, only this time a new worry arrives to keep everything in perfect shape: Reece Sponsable.  Bossy, demanding, and a little on edge, Reece totally takes over Shara's life. Because it's up to Shara to make sure EVERYONE is okay... right?  

The Truth Pixie meets Inside Out in this hilarious, highly illustrated new series, perfect for helping children gently work through their worries and concentrate on having fun.
Reviews
Amanda
The Worries: Shara and the really big sleepover is a young chapter book is a charming, well-written story about a young child's worries and the responsibility they feel for looking after their younger sibling as well as the concerns of staying at a grandparent's house whilst mum goes away. The fun illustrations add a wonderful sense of humour to this story which children will love.
It is a topic that most children will be able to identify with and will be an amazing conversation starter regarding the worries that they feel and what they could do about them. In the pandemic generation where many young children have gone years without staying with different family members or friends, these worries are real and the opportunities to discuss them before that arise is more important than ever.
I would recommend this book for school libraries, learning mentors, teachers for discussion time and families with young children.
176 Pages / Reviewed by Amanda Shipton 
Suggested Reading Age 5+
Other titles