Time to Care: Explore empathy and kindness with your little one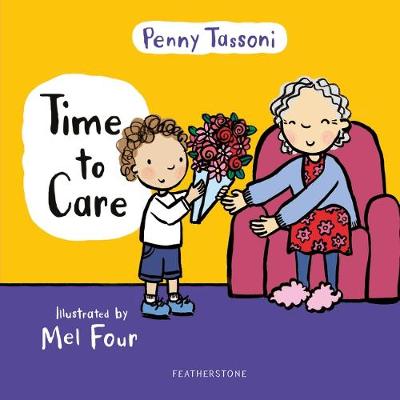 By Author / Illustrator
Penny Tassoni, Mel Four
Genre
Early Skills
Publisher
Bloomsbury Publishing PLC
ISBN
9781472978172
Format
Hardback
Published
10-06-2021
Synopsis
Everyone needs a little help from time to time, so it's important that children learn how to care for others. This charming book demonstrates to children how they can show they care, such as by helping out at home and saying please and thank you. It explains that all living things need caring for, including plants and animals.
Through simple-to-read text and delightful full-colour illustrations, Time to Care explores situations when caring for others is really important, such as when another person is hurt or upset. Sometimes, caring for someone might just mean watching and listening. This book will help children develop empathy and recognise a whole range of emotions.
From leading Early Years expert Penny Tassoni MBE, Time To... picture books use simple words and colourful illustrations to help young children understand all-important everyday skills. Featuring practical advice and tips for practitioners, carers and parents, these books will help you explore positive behaviour with children in a fun and friendly way.
Reviews
Jessica
The very knowledgeable and talented Penny Tassoni MBE gifts us with Time to Care. This picture book teaches our children a fundamental life skill - to care. This hardback book follows a series of books teaching our children all-important everyday skills featuring: Time to Go to Nursery, Time to Go to Bed, Time to Tidy Up, Time to Get Dressed, Time to Share, Time to Eat and Time to Make Friends.
Time to Care begins by simply explaining what caring means. We are then lead by the illustrations which show us many different ways that people can be caring. For example; parents helping to bath and feed their children, children looking after the elderly and thinking about manners and the words we use to show we care. Penny cleverly embeds thought-provoking questions throughout to make this story a time for discussing, sharing and learning with our adults.
As Penny Tassoni is a consultant for Early Years education, we really are in the best hands! There is a double-page spread to end this book which offers advice for parents and carers. We learn practical ways to support children to take care, including: praising their acts of kindness, ways we can model positive behaviours and how we can encourage caring behaviours by the words we say. This story prompted so much language and interaction from my toddler niece - a very successful story time!
32 pages / Reviewed by Jessica Bunney, teacher
Suggested Reading Age 0+
Other titles