Tomorrow is a Brand-New Day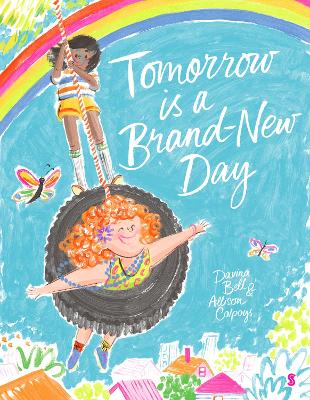 By Author / Illustrator
Davina Bell, Allison Colpoys
Genre
Mental Health & Wellbeing
Age range(s)
5+
Publisher
Scribe Publications
ISBN
9781913348281
Format
Hardback
Published
12-05-2022
Synopsis
The follow-up to bestselling All the Ways to be Smart by Davina Bell and Allison Colpoys.
Good or bad, the things you do
are all a part of being you -
of learning how to take your boat
on stormy seas and stay afloat.

From the creators of All the Ways To Be Smart comes a message of hope: hard days come and go, but love is with us always. A healing and uplifting tribute to learning and growing - to making mistakes and making amends.
Reviews
Wendy
What a delight this book is! Tomorrow is a Brand New Day tells the story of a little girl having the most terrible day because of the mistakes she makes. She does the wrong thing, she reacts the wrong way and things get worse and worse for her until she has to run home to hide. The book reassures young readers that we've all had days like that; we've all felt like that and we've all over-reacted like that. The message is that these things pass, nothing is unfixable and, of course, tomorrow is a brand new day.
The book itself is beautiful - neon colours splash onto pastel city-scapes to draw your eye to all the tiny details of these children's lives. Families groups are inclusive and diverse and the pets are just as much part of the fabric of their lives as the people. The text has a distinct 'Dr Seuss' feel, written in short rhyming couplets that dance along the pages. The narrator advises, never chastises, and reminds us all that no matter what, someone loves us.
A lovely birthday gift for your child to give their best friend or a wonderful addition to a school library - I shall be reading this in assembly a few times a year, I think!
Picture book / Reviewed by Wendy Kelly, teacher
Suggested Reading Age 5+
Other titles