'If the world were 100 people' wins Royal Society prize
Posted on Tuesday, March 7, 2023
Category: Book Awards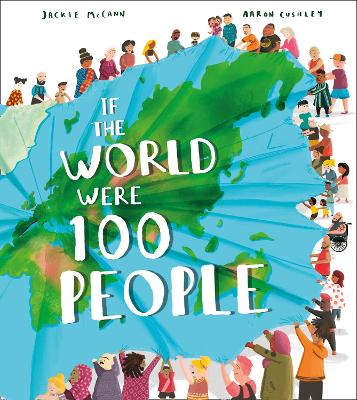 The winner of the Royal Society Young People's Book Prize 2022, announced today, is If the world were 100 people, by Jackie McCann and Aaron Cushley (HarperCollins Children's Books).
Young judges from 500 UK schools, science clubs and groups chose winner from a shortlist of six, which was decided by a panel of adult judges, including Benidorm star and author Nathan Bryon and big cat researcher Professor Alan Wilson.
If the world were 100 people
Have you ever wondered how many people have red hair, a safe place to call home, or speak the same language as you? 'If the world were 100 people' explores the differences, similarities, challenges and privileges experienced by people across the world.
For budding scientists, sociologists and even economists, this book is a thought-provoking read, and gives insight into the people we share our planet with. On each page, the Earth's population is distilled into a village of 100 people, and every person represents 80 million people in the real world. This offers a unique way to understand complex topics from genetics to medicine and technology.
Chair of the judging panel, Fellow of the Royal Society and big cat scientist, Professor Alan Wilson said: "The power of this book lies in its simple yet relatable numbers and powerful imagery, which conveys how much we all have in common but also how many people still do not have things many of us may take for granted, from clean water to the internet. I hope the data and ideas in this book will help the younger generation think about how we can work together to tackle these issues, and what the world's 'global village' may look like in the future."  The winning book received a £10,000 prize. 
Comments from young judges and 2022 adult judging panel:
"It shows you the world isn't like 'Wonderland'. Not everyone is safe, and not everyone has food to eat." - Latymer Upper School, London
"This book enlightened me about what is going on in the world today." - Perth Academy, Scotland
"This book highlights issues many people have on the planet and reveals what we have in common." - Tynecastle High School, Scotland
Actor and award-winning author Nathan Bryon said: "I was blown away by this book - the illustrations are so diverse, and you can really get a glimpse into everyone on our planet. This book is a brilliant way to understand the complexities of the world."
Here's the full shortlist for the Royal Society Young People's Book Prize 2022:
Beetles For Breakfast...and Other Weird and Wonderful Ways to Save The Planet by Madeleine Finlay, illustrated by Jisu Choi
"This book was very funny, given that scientists can be seen as very serious people." - Tadcaster Grammar School, North Yorkshire
Fantastically Great Women Scientists and Their Stories by Kate Pankhurst
"This book is easy to read and confirmed what we already believe - you can be anything if you work hard enough and persevere." - Austhorpe Primary School, Leeds
Fourteen Wolves by Catherine Barr, illustrated by Jenni Desmond
"We learnt about keystone species and how important they are. We need to protect wolves, as without them many other species would be in danger." - Salusbury Primary School, London
How Was That Built? by Roma Agrawal, illustrated by Katie Hickey
"This book teaches you about how things are built, and what we can add to make it better. I learnt about buildings from different countries, eras and continents." - Perth Academy, Scotland
If the world were 100 people by Jackie McCann and Aaron Cushley
"This book highlights issues many people have on the planet and reveals what we have in common." - Tynecastle High School, Scotland
Microbe Wars by Gill Arbuthnott, illustrated by Marianna Madriz
"It was cool to show the good and bad bacteria as superheroes and villains. This book explained how people made vaccines in the past, which can help us in the future." - Latymer Upper School, London