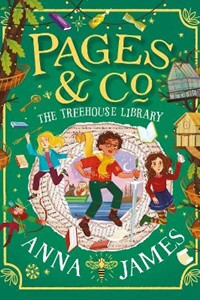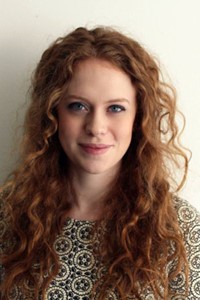 About Author
Anna James takes us back to the world of Pages & Co in her new book, Pages & Co: The Treehouse Library, the fifth book in the series, published by HarperCollins Children's Books. 
Anna James was previously book news editor at The Bookseller magazine and literary editor of Elle UK before becoming an author. Pages & Co; Tilly and the Bookwanderers was her debut children's book. She also makes bookish YouTube videos as A Case For Books and is the co-founder and host of the YA Salon in London.  You can find Anna at Twitter @acaseforbooks
Interview
Pages & Co:  The Treehouse Library  (HarperCollins Children's Books)
September 2022
Download a chapter from The Treehouse Library (Pages & Co)
Discover what inspired Anna James's bestselling series, Pages & Co, about the magic of stories, which book she would like to 'bookwander' into, and where she'd like to travel on the 'Quip'! Plus enjoy a short reading from The Treehouse Library (Pages & Co):
Q&A with Anna James
1.    What was the original inspiration for the Pages & Co series? Do you enjoy coming back to the characters for each book?
A jumble of all sorts of things but in particular my relationship with books and reading and libraries - I've always been a huge reader, and I worked as a school librarian for nearly five years so I'm a big believer in the power of books and imagination, children's books in particular.   I was thinking about Anne of Green Gables and what I would say to her and it all sort of developed from there!
I very much enjoying coming back to the characters each book, I really know them well at this point! Having said that, I've really enjoyed introducing Milo as a new main character as it lets me explore bookwandering in a different way, but Tilly and Oskar are back in The Treehouse Library too!

2.    What happens in the latest book, The Treehouse Library?
The Treehouse Library picks up straight after the end of The Book Smugglers, with Milo and Alessia slipping away from Pages & Co to try and track down the Botanist, who is the key to both the cure to the poisoned books, and to defeating the Alchemist. She lives up in Northumberland, which is where I grew up, and much of the book is a bit of a treasure hunt looking for the ingredients for the cure in various books including The Secret Garden, The Owl and the Pussycat and Robin Hood!

3.    A 'treehouse library' sounds amazing - can you tell us a bit about it?
Honestly it's one of my favourite settings I've created. I love treehouses, and have been trying to get one into the series since I started really. The Botanist's treehouse is hidden just off Hadrian's Wall, near Sycamore Gap, and has a magical greenhouse as well as a library (and a very cosy kitchen too). I absolutely loved searching for treehouse images to inspire me, and it's one of the locations I most wish was real!

4.    Why did you want to focus on Milo for this story?
Since book three, the plan has been to bring Milo forwards, for a few reasons. I initially was writing a trilogy, and so Tilly's initial story was planned over three books, so book four was always going to be the start of a new arc, and a character like Milo, who has always known about bookwandering offers a different perspective on it all. As soon as I came up with the Quip I also knew I wanted to be able to spend more time on that! I know some readers miss Tilly, but I'm extremely fond of Milo - but Tilly is back I promise (and Oskar!).

5.    Which supporting or incidental character did you enjoy writing the most?
I love writing Tilly's Grandad as he's very inspired by my Grandad. But I also really enjoy Orlando and Jorge, who are Bea's university friends who Tilly and Oskar stay with in Washington DC and who own a bookshop called Shakespeare's Sisters. Honestly, the side characters are often the most fun to come up with as you can be a bit more playful with them!

6.    Do you have a favourite villain in the series?
I think it's probably the Alchemist. I have found villains tricky to get right, as I would ideally not have them and just get to write bookwandering shenanigans! But I think the Alchemist has come together nicely; he's charming and sinister, has lots of power, but is definitely the scariest villain in terms of what he's willing to do to get what he wants! (I imagine him looking like Mads Mikkelson!)

7.    The Quip is a brilliant way to get around! What gave you the idea for this special train?
Thank you! So this is a mix of practical and imaginative! When I was writing The Map of Stories, I got this very clear image of a train station right in the middle of a labyrinth - someone that it just didn't make any sense at all to have one, and it all grew out of there. But then I also was keen to work out a more magical way of travelling because I kept getting into logistical scrapes in terms of getting characters from one physical place to another, especially children! So the Quip really allows me to get characters from place to place in a magical way without having to write about trains and planes and cars so much!

8.    If you could board The Quip, where would you want it to take you?
I think the first thing I would want to do is just to let it drive through Story and drift inside the world of imagination. I imagine it looking like space, but in a more peaceful, less terrifying way, and of course you can breathe fine in Story too! And depending on which bit of the book series you're in, I'd definitely take a trip to the Archive! In terms of the real world, I'd definitely use it to go on holiday without having to worry about flights..!

9.    What's next for the bookwanderers? 
There is one more Pages & Co book to come, the sixth and final installment will be out next autumn, so I'm mainly working on that. But I'm also starting to write what's after that which is still top secret but it is more middle grade fantasy and I'm really loving doing all the world building at the moment!

10.    Would you like to be a 'bookwanderer', and if so, which books would you visit first?
Oh absolutely - it is definitely the magic I'd most like to be able to do! Top of my list would be Anne of Green Gables, like Tilly, so I could spend time at Green Gables (and meet Gilbert Blythe), but I'd also love to visit Charmed Life by Diana Wynne Jones, and meet Momo from Momo by Michael Ende!

11. Pages and Co is all about books and the imagination - what contemporary books / authors would you recommend to our readers?
In The Treehouse Library there's actually a section at the back called Anna's Bookshelf where I recommend some more recent books as I have to use old books for bookwandering because of copyright laws! Some of the books in there are recent favourites including The Hatmakers by Tamzin Merchant, The Good Turn by Sharna Jackson and The Lost Girl King by Catherine Doyle.

12. What do you enjoy doing when you're not writing the next Pages & Co adventure?
Predictably I read a lot! But aside from that, I love going to the theatre, in particular immersive theatre. I review theatre sometimes as well, and my partner is an actor, so we love seeing as much as we can, and London is so amazing for theatre.
I also am learning bookbinding, so how to make books from scratch which I am finding so fascinating and satisfying, although it takes me a very, very long time to make one still! I've been practising on friends' books!
Author's Titles