Bugs (A Day in the Life): What Do Bees, Ants, and Dragonflies Get up to All Day?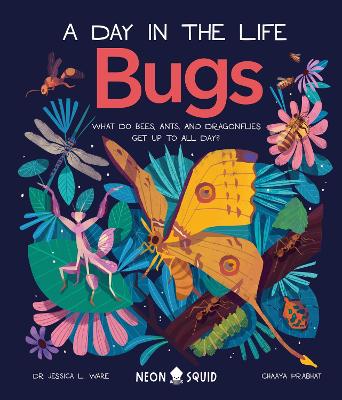 By Author / Illustrator
Jessica L. Ware, Chaaya Prabhat
Genre
Environment
Age range(s)
5+
Publisher
Neon Squid
ISBN
9781838991555
Format
Hardback
Published
05-04-2022
Synopsis
Set over a 24-hour period, meet busy honey bees, transforming caterpillars, and an army of leafcutter ants in this kids' non-fiction book about the coolest insects on Earth.  Follow the lives of individual bugs as they fly, hunt, hide, and scuttle their way through their day. Bug expert Dr Jessica L. Ware introduces characters from cicadas to butterflies in the style of a nature documentary, with a sprinkling of simple science explanations perfect for future zoologists. Witness incredible moments including:
• A dragonfly escaping a hungry frog
• A shield bug looking after her newly-hatched babies
• A gigantic comet moth with superpowered wings
Beautifully illustrated by Chaaya Prabhat and packed with animal facts, Bugs (A Day in the Life) is one of the first titles in an exciting new series of animal books from Neon Squid.
Also available: Big Cats (A Day in the Life)
Reviews
Lizi
This is a beautifully illustrated, non-fiction book from Neon Squid, who are dedicated to publishing information books that make a wide range of topics accessible and intriguing to young readers by using a style that's similar to story telling combined with the usual features of a non-fiction text.
This particular one is written by Entomologist Dr Jessica L Ware, who starts the book with a little introduction about how she got into her job and what it entails - perfect for budding entomologists! Every page has engaging illustrations from Chaaya Prabhat that perfectly complement the descriptive writing from Ware that is almost poetic in some parts. The writing is almost written as a story, with true facts in it, which would appeal to younger readers.
This book would make a glorious addition to a school library, it's so engaging it would be great in provision in KS1 or Reception and is a high-quality text that would be great to look at in KS2. It's such a lovely book to look at, it would also make a brilliant gift to little bug-studiers who might grow up to be entomologists themselves!
48 Pages / Reviewed by Lizi Backhouse, teacher
Suggested Reading Age 5+
Other titles