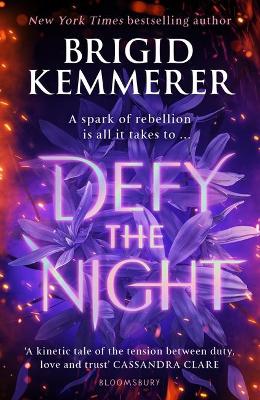 By Author / Illustrator
Brigid Kemmerer
Genre
Fantasy
Age range(s)
11+
Publisher
Bloomsbury Publishing PLC
ISBN
9781526632807
Format
Paperback / softback
Published
14-09-2021
Synopsis
A spark of rebellion is all it takes to DEFY THE NIGHT. 
In a kingdom where sickness stalks the streets and only the richest can afford a cure, King Harristan and his brother Prince Corrick are forced to rule with an iron fist. Tessa Cade is a masked outlaw marked for death, but she likes it that way. Together with the mysterious, handsome Weston, she robs from the rich to help the poor, distributing food and medicine to those who need it most. As it becomes clear that the only way to save her people is to assassinate the King, Tessa must face a deadly mission that will take her to the dark heart of the kingdom... and force her to work with the very people she intended to destroy.
From New York Times bestselling author Brigid Kemmerer comes a brand-new blockbuster fantasy series about a corrupt kingdom, a star-crossed romance and a girl who will do anything for justice.
Reviews
Linda
This wonderful YA author has done it once again in creating a realistic fantasy world with likeable characters. She has given the reader an action packed adventure that contains a star crossed romance and a corrupt kingdom.
Defy The Night is full of tension that is borne from trust, duty and love. Kandala is a kingdom where sickness roams the many streets, where only the rich and privileged can afford the cure. Tessa, along with her friend Wes, try their best to address this balance by stealing the cure from the rich to distribute to the poor that need it. Sadly, it's getting harder to steal this precious medicine and after a fatal night when things go wrong, Tessa's fears are realised as she makes her way to the Royal Sector... The people of Kandala begin to rebel against the royals. Who is right or wrong? Remember there are two sides to every story...
This well written, page turning fantasy adventure is suitable for the 12+ reader. Due to the many discussion points within its pages, this addictive story would also be great for book clubs. It truly left me wanting more, so I'm looking forward to the next book in this amazing new series.
496 pages / Reviewed by Linda Brown, school librarian
Suggested Reading Age 11+
Other titles