Join author Peter Brown (The Wild Robot) for this free virtual event
Posted on Monday, November 6, 2023
Category: Events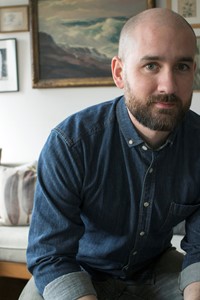 We're welcoming author Peter Brown to the ReadingZone Bookclub, and we'd love you to join us for this free virtual event!  Meeting an author can have a real impact on children's Reading for Pleasure - and taking part in a virtual bookclub event is a great way to end the week.
The ReadingZone Bookclub is aimed at classrooms and libraries that are keen to develop a love of reading and the events are aimed at students aged five to 12 years. 
These events are open to schools and classrooms, and are free to join.   Each event runs on Zoom and includes a half hour author event, followed by an author Q&A via Chat, giving children the opportunity to put their own questions to the author. 

Event Details:    The Wild Robot with Peter Brown
Friday 17th November, 2pm - 2.45pm
For Years 3,4,5
During this event, author Peter Brown will introduce his best-selling books The Wild Robot and The Wild Robot Escapes, and we will learn about the latest book in the series, The Wild Robot Protects, which has just been published by Piccadilly Press. Peter will talk about the steps he took to become a professional author and illustrator, discusses his process of writing and illustrating, and gives a drawing demonstration with some basic drawing lessons. 
To book a free place at Peter Brown's event, email [email protected] (Subject: Wild Robot) and we will send you the event link and information.  We will also offer discounted copies of the Wild Robot series to schools for children who attend the event, to encourage reading for pleasure after Peter's event.
Peter Brown introduces The Wild Robot Protects in this special Q&A with ReadingZone
Find out more about The Wild Robot;  The Wild Robot Escapes;   The Wild Robot Protects
Find out more about the ReadingZone Bookclub Author Events