Winners of the UKLA Book Awards 2022 announced
Posted on Friday, July 1, 2022
Category: Book Awards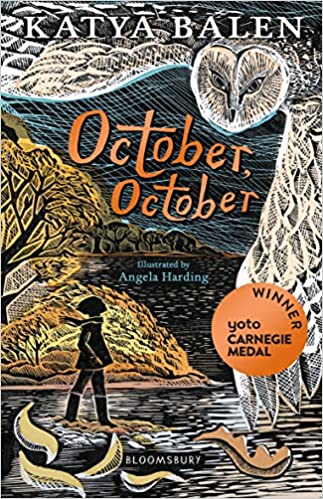 Hot on the heels of her Carnegie Medal win, Katya Balen wins the 2022 UKLA Book Awards for her novel, October, October (Bloomsbury Children's Books).  You can see a short video where Katya introduces October, October and her earlier book, The Space We're In, here.
The UKLA Book Awards, which is judged by teachers, includes four categories including 3+, 7+ and 11+.  The winners were announced live at the awards ceremony on July 1st at the UKLA International Conference in Birmingham.
The judging criteria call for the selection to be from a "wide and inclusive range" of publishers and for books which "recognise a broad range of perspectives, experiences and voices". Judge Theresa Gooda said "The rare opportunity for such reflective book talk with colleagues, which then translated into rich classroom conversations with students, has been invaluable professional development."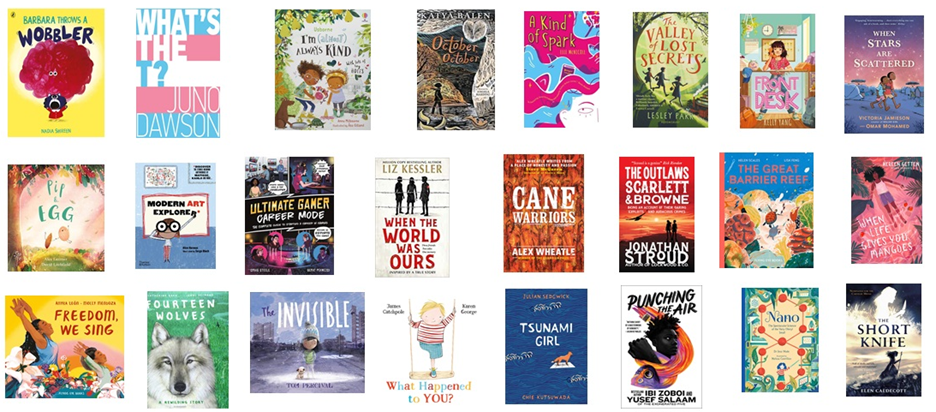 Award Winners
3+   There was a joint winner for the first time in the 3-6+ age category. Both Barbara Throws a Wobbler by Nadia Shireen (Puffin) and The Invisible by Tom Percival (Simon & Schuster) were considered so exceptional in very different ways that both deserved to win. The judges said Barbara Throws a Wobbler is a very funny tale which "delivers on reading for pleasure as well as helping us all to reflect on the universal impact of a bad day, teaching valuable lessons in empathy and allowing children to talk about and understand their feelings". Tom Percival's haunting tale, The Invisible, beautifully and sensitively confronts the issue of being excluded by poverty. Judges felt this was an "important story which packs a real emotional punch" and called for it to be available in every classroom.
7+   The 7-10+ category winner, October, October by Katya Balen (Bloomsbury), also won this year's Carnegie Medal and was praised by judges for its use of language which is both childlike and yet poetic and complex, and which provokes a "strong emotional response" in all readers. The judges also Highly Commended Front Desk, the debut novel from Kelly Yang (Knights Of), which draws on her own experience of moving from China to America as a "positive story of making new lives"; this will resonate with the lived experience of many children in the UK, providing a powerful message about resilience in an accessible and entertaining package.
11+   Carnegie shortlisted titles also went head-to-head in the 11-14+ category and after intense debate, the judges chose Punching the Air by Ibi Zoboi and Yusef Salaam (HarperCollins) as their winner. Described as a "breathtaking" verse novel, the judges remarked that "every word is so carefully chosen and laid out on the page". The novel relates a powerful and important true story of wrongful imprisonment which the judges said "reduced students to tears". The judges also wished to Highly Commend Tsunami Girl by Julian Sedgwick and Chie Kutsuwada (Guppy Books) for its "innovative" prose and manga structure, which added depth to a story blending global and personal tragedy and ancient and modern cultures in a powerful way.
Information Books    Judges of the category of Information Books 3- 14+ also had difficult choices to make but selected Nano, where life in miniature is so skilfully explained by Dr Jess Wade and stunningly illustrated by Melissa Castrillon (Walker Books). The book offers young readers "diverse and gender positive" look at the way the global community of scientists really works, they said.
The fact that these shortlists are judged by class teachers and can be heartily recommended to their peers makes them particularly useful. For UKLA, giving classroom practitioners the opportunity to read high quality new children's books is as important as finding an overall winner. Research carried out by members of UKLA (Cremin et al 2008) clearly demonstrated the links between teachers' knowledge of children's books and the likelihood of pupils becoming successful readers. Despite this evidence, teachers are seldom given time to read new books or funding to purchase them when they do.
The Shortlists in full
3 to 6+
Freedom We Sing written by Amyra León, illustrated by Molly Mendoza (Flying Eye)
What Happened to You? written by James Catchpole, illustrated by Karen George (Faber)
Pip and Egg written by Alex Latimer, illustrated by David Litchfield (Scholastic)
I'm (Almost) Always Kind written by Anna Milbourne illustrated by Asa Gilland, (Usborne)
The Invisible written and illustrated by Tom Percival (Simon & Schuster)
Barbara Throws a Wobbler written and illustrated by Nadia Shireen, (Puffin)
7 to 10+
October, October written by Katya Balen, illustrated by Angela Harding (Bloomsbury)
When Life Gives You Mangoes written by Kereen Getten (Pushkin Press)
When Stars are Scattered written and illustrated by Victoria Jamieson, with Omar Mohamed (Faber)
A Kind of Spark written by Elle McNicholl (Knights Of)
The Valley of Lost Secrets written by Lesley Parr (Bloomsbury)
Front Desk written by Kelly Yang (Knights Of)

11 to 14+
The Short Knife written by Elen Caldecott (Andersen)
When the World Was Ours written by Liz Kessler (Simon & Schuster)
Tsunami Girl written by Julian Sedgwick, illustrated by Chie Kutsuwada (Guppy Books)
The Outlaws Scarlett and Browne written by Jonathan Stroud (Walker)
Cane Warriors written by Alex Wheatle (Andersen)
Punching The Air written by Ibi Zoboi and Yusef Salaam (HarperCollins)
Information Books 3-14+
Fourteen Wolves written by Catherine Barr, illustrated by Jenni Desmond (Bloomsbury)
What's the T? written by Juno Dawson, illustrated by soofiya (Wren & Rook)
Modern Art Explorer written by Alice Harman, illustrated by Serge Bloch (Thames and Hudson)
The Great Barrier Reef written by Helen Scales, illustrated by Lisk Feng, (Flying Eye)
Ultimate Gamer - Career Mode written by Craig Steele, illustrated by Berat Pekmezci (Kingfisher)
Nano written by Dr Jess Wade, illustrated by Melissa Castrillon (Walker)
@The_UKLA #UKLA22