Nominations announced for the 2024 Carnegie Medals
Posted on Monday, November 6, 2023
Category: Book Awards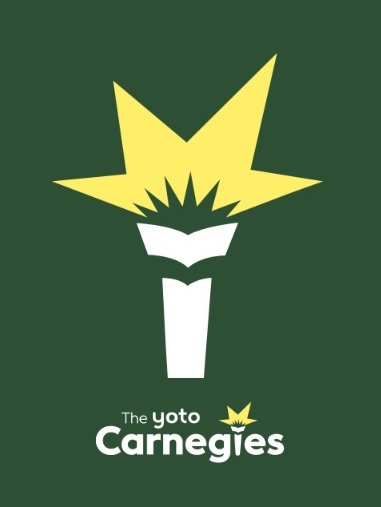 The nominations for this year's Carnegie Medals (see below) have been announced, with 129 books put forward for the awards.
The nominations include 69 books for the Yoto Carnegie Medal for Writing, awarded to a book written in English for children and young people that 'sparks an outstanding reading experience'; and 60 books for the Yoto Carnegie Medal for Illustration, which celebrates an 'outstanding reading experience through illustration'. Of the books nominated, six are included in nominations for both medals. 
The medals are judged by librarians who are CILIP members, as well as external bodies, including the CILIP School Libraries Group and Amnesty International.  The criteria for the awards is 'to champion librarians to inspire and empower the next generation to create a better world through books and reading'.
Judging:   Each nominated book is read by every member of the 2024 judging panel, which includes 12 experienced librarians from CILIP's Youth Libraries Group (YLG), who volunteer their time as judges.  They will select a long and shortlist, and finally the 2024 Medal winners.
Shadowers' Choice Awards:   Thousands of children and young people will also take part in the Shadowers' Choice Awards - 'shadowing' reading groups that involve thousands of children and young people in schools and libraries in the UK and overseas in reading and discussing the shortlisted books.   These groups will vote for their favourite books to receive the Shadowers' Choice Award at the winners' ceremony in June 2024.   Registration for shadowing groups is now open; group leaders can opt in to receive a free publicity pack when the shortlists are announced in March.
Key Dates for Judging:
Longlists announced - Wednesday 13 February 2024
Shortlists announced and Shadowing begins - Wednesday 13 March 2024
Yoto Carnegie Medal Winners announced - Thursday 20 June 2024
Follow the Carnegies updates:     #YotoCarnegies24  /  @CarnegieMedals  /  The Yoto Carnegies

Yoto Carnegie Medal for Illustration Nominated Titles 2024
My Dad is a Tree,  Jon Agee (Scallywag)
The Slug and the Snail,  Olya Anima (illustrator) Oein DeBhairduin (author)  (Little Island Books)
The Ever-Changing Earth, Grahame Baker-Smith (Templar Publishing)
Desert Jungle, Jeannie Baker (Walker Books)
If I Had a Crocodile, Alex Barrow (illustrator) Gabby Dawnay (author) (Thames and Hudson)
The Tree and the River, Aaron Becker  (Walker Books)
Different for Boys,  Tea Bendix (illustrator) Patrick Ness (author)  (Walker Books) 
The Squirrel and the Lost Treasure,  Coralie Bickford-Smith  (Particular Books) 
A Boy, His Dog and the Sea, Anthony Browne  (Walker)
A Swallow in Winter, Thomas Campi (illustrator) Timothée de Fombelle (author)  (Walker Books)
The Woman Who Turned Children Into Birds,  Laura Carlin (illustrator) David Almond (author), Walker Studio
The Little Match Girl Strikes Back, Lauren Child (illustrator) Emma Carroll (author)  (Simon & Schuster)
The Wolf-Girl, the Greeks and the Gods: A Tale of the Persian Wars, Jason Cockcroft (illustrator) Tom Holland (author)  (Walker Books) 
Doris, Lo Cole  (Rocket Bird Books)
Global, Eoin Colfer and Andrew Donkin (illustrators) Giovanni Rigano (author)  (Hodder Children's Books)
The Pebble, Inga Dagile (illustrator) Marius Marcinkevičius  (author)   (Thames and Hudson)
Leila and the Blue Fox, Tom de Freston (illustrator), Kiran Milwood Hargrave (author) (Orion Children's Books)
Home for Grace, Rachael Dean (illustrator) Kathryn White (author)   (Andersen Press)
The Hare-Shaped Hole,  Thomas Docherty (illustrator) John Dougherty (author)  (Frances Lincoln Children's Books)
Wolves in Helicopters, Paddy Donnelly (illustrator) Sarah Tagholm (author)   (Andersen Press)
April's Garden, Catalina (illustrator) Isla McGuckin (author)   (Graffeg)
Cerys Matthews' Under Milk Wood: An Illustrated Retelling, Kate Evans (illustrator) Matthews, Cerys and Dylan Thomas (authors)   (Weidenfeld & Nicolson)
In Our Hands, Lucy Farfort  (Tate Publishing)
That's Nice, Love, Owen Gent  (Book Island)
The Concrete Garden, Bob Graham  (Walker Books)
The House With a Dragon in it, Emily Gravett (illustrator) Nick Lake (author)   (Simon & Schuster)
Well Done, Mummy Penguin, Chris Haughton   (Walker Books) 
Deep, Stephen Hogtun   (Bloomsbury Children's Books) 
Choose Love, Petr (illustrator) Nicola Davies, Nicola (author)   (Graffeg)
Lost, Mariajo Ilustrajo   (Frances Lincoln Children's Books)
A Child Like You, Nadine Kaadan (illustrator) Robert, Na'ima B (author)   (Otter-Barry Books)
Colours, Colours Everywhere,  Sharon King-Chai (illustrator) Julia Donaldson (author)   (Two Hoots)
The Skull, Jon Klassen   (Walker Books) 
Stopping by Woods on a Snowy Evening, PJ Lynch (illustrator) Robert Frost (author)  (Walker Books)
Girls Who Slay Monsters, Shona Shirley MacDonald (illustrator) Ellen Ryan (author)  (HarperCollins Children's Books) 
The Frog's Kiss, James Mayhew and Toto   (Scholastic)
The Wilderness, Steve McCarthy    (Walker Books)
Tyger,  Dave McKean (illustrator) SF Said (author)   (David Fickling Books)
To the Other Side,  Erika Meza   (Hodder Children's Books) 
The Midnight Panther,  Poonam Mistry   (Templar Publishing) 
Teddy's Midnight Adventure,  Yoko Mori (illustrator) Cathy Hirano (translator)   (Pushkin)
Balam and Lluvia's House, Yolanda Mosquera (illustrator) Julio Serrano Echeverría (author) Lawrence Schimel (translator)   (The Emma Press)
The Circles in the Sky,  Karl James Mountford   (Walker Books) 
Brilliant Black British History, Kingsley Nebechi (illustrator) Atinuke (author)   (Bloomsbury Children's Books)
The Zebra's Great Escape,  Sara Ogilvie (illustrator) Katherine Rundell (author)   (Bloomsbury Children's Books)
Paradise Sands,  Levi Pinfold   (Walker Studio)
The Bowerbird,  Catherine Rayner (illustrator) Julia Donaldson (author)   (Macmillan Children's Books)
Moving the Millers' Minnie More Mine Mansion, Julia Sarda,  (illustrator) Dave Eggers (author)   (Walker Books) 
The Search for the Giant Arctic Jellyfish, Chloe Savage   (Walker Books)  
Flight, Lynn Scurfield, Mya-Rose Craig (author)   (Puffin)
Glow: The Wild Wonders of Bioluminescence,  Jennifer NR Smith   (Thames and Hudson)
My Baba's Garden, Sydney Smith (illustrator) Jordan Scott (author)   (Walker)
The Boy Who Lost His Spark, Daniela Jaglenka Terrazzini (illustrator) Maggie O'Farrell (author)   (Walker) 
Darwin & Hooker: A Story of friendship, curiosity and discovery that changed the world, Joe Todd-Stanton (illustrator) Alexandra Stewart (author)   (Bloomsbury Children's Books) 
Luna and the Treasure of Tlaloc,  Joe Todd-Stanton   (Flying Eye Books) 
The Artist,  Ed Vere  (Puffin) 
One and Everything, Sam Winston   (Walker Studio) 
ZombieGerm 2: Mission Clutz, Chris Woffenden (illustrator) Christian Sprenger (author)   (Highfield) 
The Starling's Song,  Octavie Wolters  (illustrator) Michele Hutchinson (translator)   (Pushkin) 
What Feelings Do When No One's Looking, Aleksandra Zajac (illustrator) Tina Oziewicz (author)   (Pushkin)

Yoto Carnegie Medal for Writing Nominated Titles 2024
The Door of No Return, Kwame Alexander   (Andersen Press)
Where the Light Goes,  Sara Barnard   (Walker)
The Song Walker, Zillah Bethell   (Usborne)
Kofi and the Rap Battle Summer,  Jeffrey Boakye   (Faber & Faber)
Warrior Girl Unearthed, Angeline Boulley (Rock the Boat)
The Half Life of Love, Brianna Bourne  (Scholastic) 
The Wonder Brothers,  Frank Cottrell Boyce (author) Steven Lenton (illustrator)   (Macmillan Children's Books) 
Away with Words,  Sophie Cameron   (Little Tiger)
The Little Match Girl Strikes Back,  Emma Carroll (author) Lauren Child (illustrator)   (Simon & Schuster) 
The Tale of Truthwater Lake,  Emma Carroll   (Faber & Faber)
What Walks These Halls, Amy Clarkin   (O'Brien Press)
The Boy Lost in the Maze,  Joseph Coelho (author) Kate Milner (illustrator)   (Otter-Barry Books)
Swimming on the Moon, Brian Conaghan   (Bloomsbury Children's Books) 
The Girl Who Broke the Sea,  A Connors   (Scholastic) 
Gwen & Art are Not in Love,  Lex Croucher   (Bloomsbury YA)
What the World Doesn't See, Mel Darbon   (Usborne)
Choose Love,  Nicola Davies (author) Petr Horáček  (illustrator)   (Graffeg)
A Swallow in Winter,  Timothee de Fombelle (author) Thomas Campi (illustrator)   (Walker Books) 
Electric Life, Rachel Delahaye   (Troika Books)
Bitterthorn,  Kat Dunn   (Andersen Press)
The Book of Secrets,  Alex Dunne   (O'Brien Press)
The Stolen Songbird,  Judith Eagle   (Faber & Faber)
Until the Road Ends,   Phil Earle   (Andersen Press)
The Rescue of Ravenswood,  Natasha Farrant   (Faber & Faber) 
Digging for Victory,  Cathy Faulkner   (Firefly Press)
Crossing the Line,   Tia Fisher   (Hot Key Books)
I Am Lenny Brown,  Dan Freedman (author) Kajsa Hallstroem (illustrator)   (Puffin)
World Weavers,  Sam Gayton   (Andersen Press)
Let's Chase Stars Together,  Matt Goodfellow   (Bloomsbury Education)
Wild Song, Candy Gourlay   (David Fickling Books)
Boy Like Me,  Simon James Green   (Scholastic)
The Lonely Book, Meg Grehan   (Little Island Books)
Unraveller, Frances Hardinge   (Macmillan Children's Books) 
Leila and the Blue Fox, Tom de Freston (illustrator), Kiran Milwood Hargrave (author) (Orion Children's Books)
The First Move, Jenny Ireland   (Penguin)
The Story of Now, Shelina Janmohamed   (Welbeck Flame)
The Lorikeet Tree,  Paul Jennings   (Old Barn Books)
As Long As the Lemon Trees Grow, Zoulfa Katouh   (Bloomsbury YA)
Safiyyah's War,  Hiba Noor Khan   (Andersen Press)
Rhubarb Lemonade,  Oskar Kroon  (Hot Key Books)
Catfish Rolling, Clara Kumagai   (Zephyr)
A Passing On of Shells,  Simon Lamb (author) Chris Riddell (illustrator)  (Scallywag Poetry)
Jamie, LD Lapinski   (Orion Children's Books)
Steady for This,  Nathanael Lessore   (Hot Key Books)
The Swifts, Beth Lincon (author) Claire Powell (illustrator)   (Puffin)
The Chestnut Roaster,  Eve McDonnell   (Everything with Words)
Dogs of the Deadland,  Anthony McGowan   (Rock the Boat)
Like a Curse, Elle McNicoll   (Knights Of)
You Think You Know Me, Ayaan Mohamud   (Usborne)
A Calamity of Mannerings, Joanna Nadin   (UCLan Publishing)
Children of the Stone City,  Beverley Naidoo   (HarperCollins)
Fablehouse, EL Norry   (Bloomsbury Children's Books)
Ghostlight, Kenneth Oppel   (Guppy Books)
Where the River Takes Us,  Lesley Parr   (Bloomsbury Children's Books)
Activist,  Louisa Reid   (Guppy Books)
The Haunting of Tyrese Walker,  JP Rose   (Andersen Press)
Tyger, SF Said (author) Dave McKean (illustrator)   (David Fickling Books)
Ravencave,  Marcus Sedgwick   (Barrington Stoke)
HappyHead,  Josh Silver   (Oneworld Publications)
You Don't Know What War Is, Yeva Skalietska    (Bloomsbury Children's Books)
ZombieGerm 2: Mission Clutz,  Christian Sprenger (author) Chris Woffenden (illustrator)   (Highfield)
Wearing My Mother's Heart,  Sophie Thakur   (Walker Books)
Greenwild: The World Behind the Door,  Pari Thomson  (author) Elisa Paganelli (illustrator)    (Macmillan Children's Books)
The Táin, Alan Titley (author) Eoin Coveney (illustrator)   (Little Island Books) 
Norah's Ark,   Victoria Williamson   (Neem Tree Press)
War of the Wind,   Victoria Williamson   (Neem Tree Press)
My Especially Weird Week with Tess,  Anna Woltz (author) David Colmer (translator)   (Rock the Boat)
The Agency for Scandal, Laura Wood   (Scholastic)